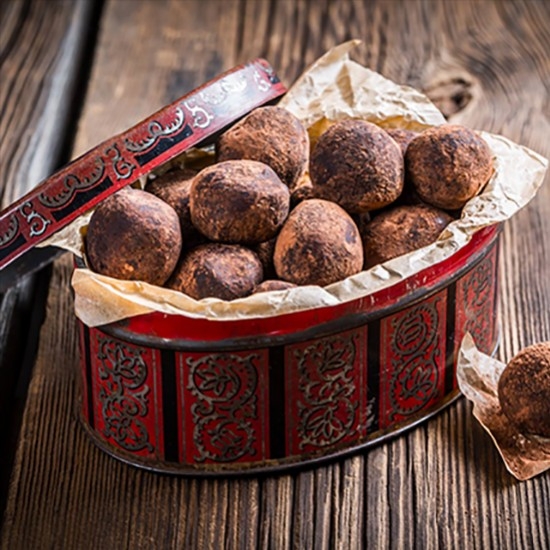 Chocolate, orange and RinQuinQuin truffles
For 6 persons
Ingredients
160 gr of chocolate with 64% cocoa
Pure cocoa powder (no sugar)
200 gr orange marmalade (with whole slices)
2 tablespoons of RinQuinQuin
25 cl of fresh cream
2 egg yolks
50 gr of icing sugar
2 grams Agar Agar
Preparation
Blanch the egg yolks with the sugar and add the RinQuinQuin
Melt the chocolate chips in the microwave, add Agar-Agar and mix quickly with a spatula, pour into the egg-sugar-RinQuinQuin cream while whisking.
Add the very cold liquid cream in firm mousse and mix with the warm chocolate mixture by gently stirring with a whisk.
© photo : Bambule Médias
Reserve in the freezer for 3 hours.
Form the truffles with an ice cream scoop and roll them into the cocoa powder.
Melt the marmalade of oranges with 3 tablespoons of water.
Serve very cold truffles and warm marmalade.
Related products

15° - 75 cl
RinQuinQuin is a white wine-based apéritif from the Lubéron, with the peaches of the valley of Durance, with leaves of peach trees picked in autumn, with sugar of cane and with alcohol.