History
Founded in 1898 at Forcalquier in the Haute Provence, Distilleries et Domaines de Provence have been making aperitifs and Provencal liqueurs for over 100 years.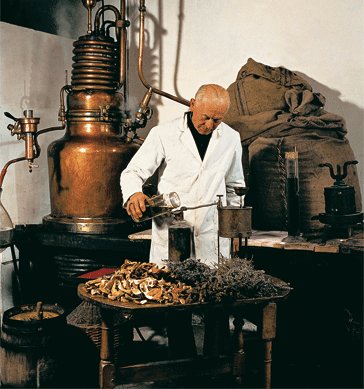 It is here that gatherers of medicinal herbs first became tradesmen in the middle ages by distilling these precious plants. 
During the 17th and 18th centuries, these traders settled in many towns in the region as suppliers of medicines or apothecaries. 
In the 19th century some became pharmacists, others distillers, and some combined both trades. Wine and alcohol, maceration and distillation were the means by which the plants' aromas and active ingredients could be extracted and conserved. The specialities that they created from the plants of the Lure region were often concoctions with purgative qualities, or tonics, digestives and aperitifs. It was only at the end of the century that distillers began to specialise in the production of liqueurs and aperitif drinks.
Today these skills have been preserved and maintained by Distilleries et Domaines de Provence for over 100 years, to be diffused throughout the world for the greater pleasure of all lovers of fine spirits.