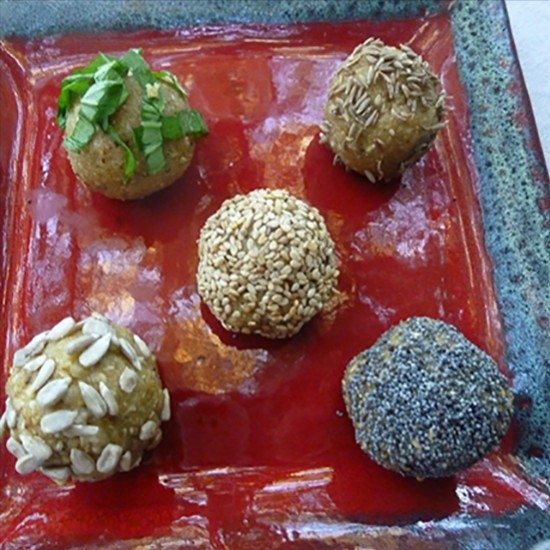 Cashew cheese with RinQuinQuin
Ingredients
For 5 meatballs:
100 gr of plain cashew nuts (unroasted and salted)
2 to 3 tablespoons of RinQuinQuin
1 pinch of salt (optional)
1 tablespoon lemon juice
1 teaspoon of pistachio puree
1 tablespoon of barley miso
Accompaniment:
herbs (basil, mint, thyme, rosemary)
seeds (fennel, coriander, poppy, sesame, caraway ...),
dried fruits & vegetables (tomatoes, grapes, figs, garlic, onion ...)
Preparation
2 to 6 hours in advance, soak the cashews in a bowl of water.
Using a strainer, rinse well by passing under tap water. Drain them.
Add RinQuinQuin, salt and lemon juice and mix until smooth.
Form the dumplings
Then add your accompaniments and serve.
Inspired by a recipe of Antigone XXI, the blog of L'abondance frugale.
© photo : Bambule Medias
Related products

15° - 75 cl
RinQuinQuin is a white wine-based apéritif, with peaches, leaves of peach trees picked in autumn,  sugar and  alcohol.