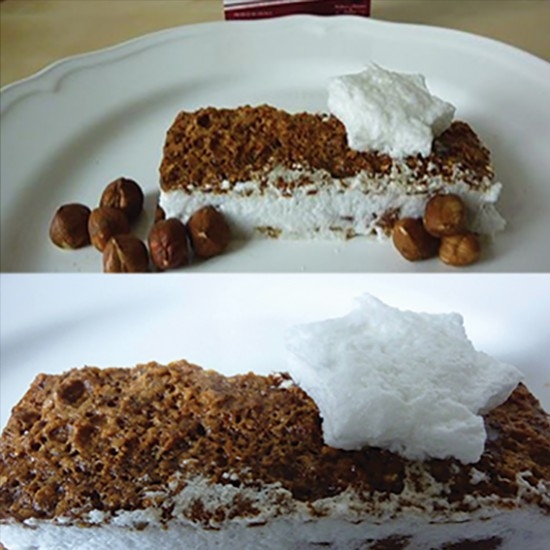 Dacquoise with hazelnuts, dark chocolate mousse and RinQuinQuin scum
Ingredients
Ingredients for dacquoise with hazelnuts:
3 egg whites,
100 gr of icing sugar,
30 gr of sifted flour,
85 gr of hazelnut powder
35 gr of caster sugar
Ingredients for chocolate mousse:
100 gr of dark chocolate (chocolate Bonnat preferably),
150 gr of egg whites (5 whites),
100 gr of sugar,
100 gr of 35% foil cream
Ingredients for froth at RinquinQuin:
42 gr of egg whites
44 ml of RinQuinQuin
Preparation
Unwrapped for the Dacquoise:
In a bowl, mix the powders (hazelnuts, flour and icing sugar)
Beat the egg whites into the sugar by incorporating the sugar from the start.
Incorporate the whites into the powders gently with a maryse.
Draw two 20 cm diameter discs or 6 rectangles on a parchment paper.
Bake at 180 ° C for about ten minutes.
Rolled out for the chocolate mousse:
Melt the chocolate in the microwave, assemble the cream and set aside.
Beat the egg whites with the sugar.
Add the melted chocolate to the whites and gently add the whipped cream.
Reserve in the refrigerator.
Rolled out for the foam at Rinquinquin:
Mount the froth with the mixer, medium and maximum speed, use a cookie cutter of your choice.
Dressage:
Alternate layers of dacquoise and chocolate mousse.
Decor: RinQuinQuin scum
© photo : Bambule Medias
Related products

15° - 75 cl
RinQuinQuin is a white wine-based apéritif, with peaches, leaves of peach trees picked in autumn,  sugar and  alcohol.