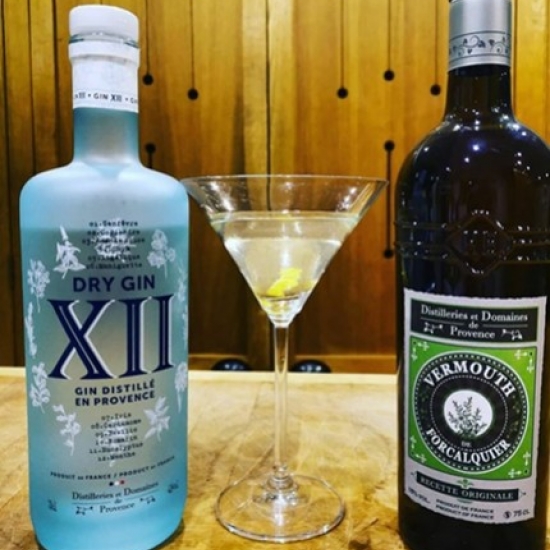 « Martini du Mistral »
A 100% Distilleries and Domaines de Provence duo from @provencalbonviveur - Luberon France
Ingredients for 2 glasses:
20 cl of Gin XII
2.5 cl of Vermouth de Forcalquier (for a pronounced Provençal character)
or
1.75 cl of Vermouth de Forcalquier (for a drier martini)
Method (for 2 glasses):
Refrigerate glasses in the freezer (or fill them with crushed ice until very cold).
In a shaker, pour 8 x 2.5 cl measures of Gin XII and between 0.5 and 1 2.5 cl measure of Forcalquier Vermouth, depending on the degree of dryness of your Martini. The larger measure will also give more character to the Provençal scrubland.
Add 10 ice cubes to the shaker and shake or stir vigorously.
Cut two lemon zests and wrap them around a stick to release the oil from the lemon. Place each slice in the bottom of your chilled Martini glasses. For an even more Provençal flavor, you can also add a sprig of rosemary!
Filter and serve your Mistral Martini 'in both glasses.
Photo credit: @provencalbonviveur
Related products

Gin XII, with 12 plants and spices
70 cl - 42°
Gin XII is craft distilled from twelve plants and spices in a plate column still, creating a subtle range of aromas. Gin XII owes its name to the twelve plants and spices that go into its creation. It is characterised by fresh, minty, floral, slightly spicy notes and a beautifully lingering finish. A dry gin with a rich, authentic taste, born of a long period of research and reflection. Gin XII takes full advantage of its Haute-Provence terroir and its subtle blend of herbs such as thyme, rosemary, basil, eucalyptus, sweet almond and mint, which join forces with small juniper berries to express the aromatic intensity of a stroll through the garrigue!

75 cl - 18°
Vermouth de Forcalquier is an aromatized wine made with absinthe and vivacious, bitter plants and spices (lemon balm, mint, mugwort, green aniseed, cinnamon, coriander and pink peppercorns).
Vermouth de Forcalquier is a full-flavoured aperitif in a superb vintage style bottle.