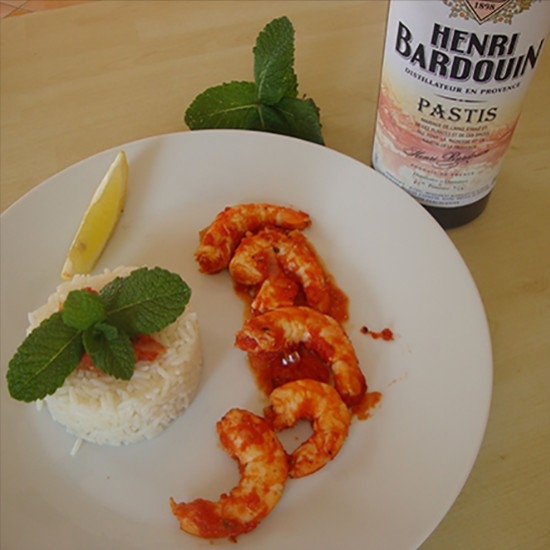 Saganaki shrimp with pastis Henri Bardouin by Marc Bastide
For 4 people
Ingredients
450 gr large raw shrimp
4 tablespoons of olive oil
1 chopped onion
2 tablespoons fresh parsley, chopped
2 tablespoons Pastis Henri Bardouin
1 can 400 gr of crushed tomatoes, drained
1/4 teaspoon minced garlic
220 gr of feta cheese, cut into cubes
Salt and pepper
25 cl of white wine
Preparation
Diving and blanching raw shrimp for 5 minutes. Drain them keeping the cooking water and reserve.
Fry the onion in 2 tablespoons of olive oil in a pan then add the parsley, the white wine, the tomatoes, the garlic, and the rest of the olive oil. Let the sauce thicken for 30 minutes while stirring.
While the sauce is simmering, the shrimp should have cooled slightly. First remove the legs, then remove their shell without touching the head or tail.
When the sauce has finished thickening, add the shrimp. Cook for another 5 minutes over low heat, then add the feta and 2 tablespoons of Henri Bardouin pastis and remove from heat.
Serve with white rice.
© photo : Marc Bastide 
Related products

70 cl - 45°
Pastis with a unique character: mixed from more than 65 plants and spices, it is powerful and aromatic on the palate.
Only available in France