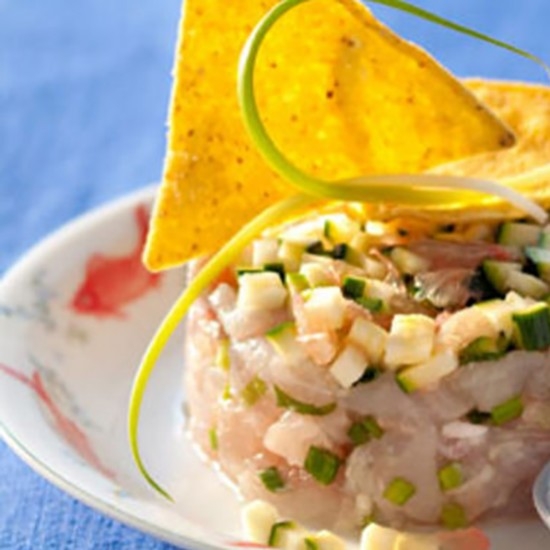 Sea bream tartare with anise
For 4 people
Ingredients 
500 g sea bream fillet, skinless
½ teaspoon of anise seeds
Ground pepper
For seasoning:
3 tablespoons of olive oil
½ tablespoon lemon juice
½ teaspoon pastis Henri Bardouin
1 pinch of fleur de sel
Preparation
Check that there are no more edges in the fish fillets. If they are left, remove them with a small clip. Rinse them with fresh water and then mop them up carefully. Place them for about 15 minutes in the freezer to firm the flesh. Put 4 plates to cool.
Prepare the seasoning. Crush the anise seeds and the fleur de sel in a bowl. Mix the lemon juice and pastis Henri Bardouin, then pour the oil whipping to emulsify the whole.
Remove the bream fillets from the freezer, place them on a board and chop them into small cubes with a sharp knife. Put them as you go in a bowl on a dish filled with ice cubes.
Pour the sauce over the fish, give a few turns of pepper mill and mix well. Form small domes on chilled plates or spread the tartar in verrines. Sprinkle with anise seeds and refrigerate until ready to serve.
© Photo : Rouvrais/PrismaPix
Related products

70 cl - 45°
Pastis with a unique character: mixed from more than 65 plants and spices, it is powerful and aromatic on the palate.
Only available in France