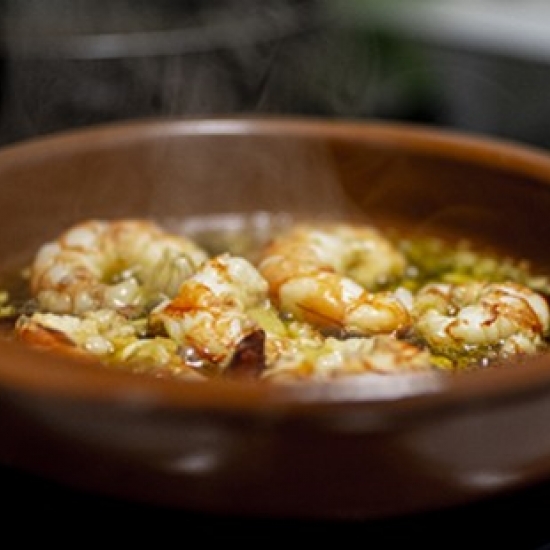 Aniseed risotto in gambas
For 4 people
Ingredients
Preparation: 30 minutes 
Cooking: 18 at 20 minutes 
• 250 g from rice to risotto (carnaroli or arborio) 
• 16 tails of raw gambas 
• 90 cl approximately of smell of fish (fresh or prepared with the concentrated) 
• 1 onion 
• 1 pinch of saffron 
• One ½ soup spoon of pastis Henri Bardouin · 80 g of Parmesan cheese freshly worn 
• 60 g of butter 
• 2 soup spoons of olive oil 
• Salt
Preparation
Peel and chop finely the onion. Put gambas in a hollow dish, water them with a soup spoon of olive oil and of a half-pastis Henri Bardouin, salt slightly, move and reserve them for the refrigerator. Warm the smell in a pan with the rest of the Pastis HB and maintain it shivering over a low heat. 
Warm half of the butter and the rest of oil in a big frying pan and melt the onion 5 minutes over a low heat. When it is soft and translucent, to pay the rice in rain and to move 1 or 2 minutes to coat well grains with it.
Pay a ladle of hot smell, move and let cook slowly until he is completely absorbed. Poursuiver the cooking 15 at 20 minutes, by moving constantly and by adding the hot, shady smell by ladle, as the rice absorbs him. Taste to verify the cooking of the rice, which must be soft and tender, without crashing. 
Add the saffron, the Parmesan cheese, the rest of the butter cut in pieces and ½ ladle of broth. Rectify the seasoning and move delicately. Take away from the fire, cover and let rest 2 minutes.
Meanwhile, get back 2 or 3 minutes gambas coated with their marinade, on rather lively fire, in a big antiadhesive frying pan, often by moving. Put them on the risotto at the time of serving.
Photo credit: Adobe Stock - PedroLuis
Related products

70 cl - 45°
Pastis with a unique character: mixed from more than 65 plants and spices, it is powerful and aromatic on the palate.
Only available in France