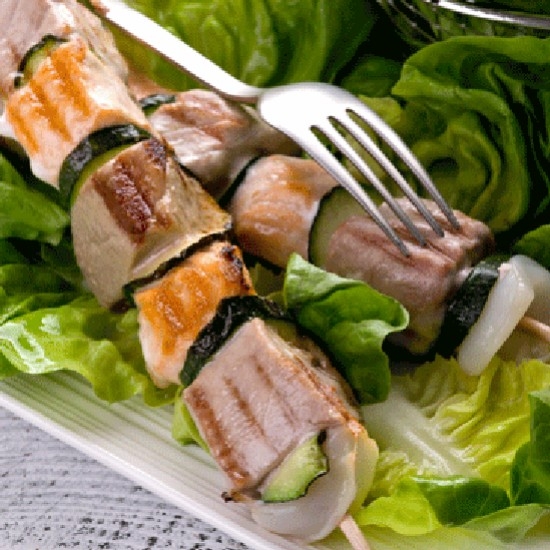 Anisette-flavored tuna skewers
Ingredients
Serves 4

•    2 tablespoons of maize oil
•    Juice of l lemon
•    1/2 teaspoon of curry powder
•    1/2 teaspoon of fresh thyme, chopped
•    50 mL of Pastis HB
•    mushrooms
•    1 zucchini, cut into 28 pieces
•    750 g of fresh tuna - cut into 28 pieces each 2.5 cm in size
•    Salt and pepper to taste
Preparation
Preparation: 15 mins. Cooking: 10 mins.

In a bowl mix the oil, lemon juice, curry powder, thyme and Pastis HB.
For each kebab, skewer a mushroom, then a piece of zucchini, then a piece of tuna and continue until you have 7 pieces of tuna and 7 pieces of courgette on each skewer. End with a mushroom.
Place the kebabs in a rectangular glass dish and pour over the marinade. Leave to marinade for 15 minutes at room temperature.
Heat the grill. Drain the kebabs, season and place them on the grill pan over a rack. Cook for 5 minutes, turning them halfway.
Serve on a bed of rice with lemon-coated vegetables.
 
© photo : Adobe Stock - Marco Mayer
Related products

70 cl - 45°
Pastis with a unique character: mixed from more than 65 plants and spices, it is powerful and aromatic on the palate.
Only available in France