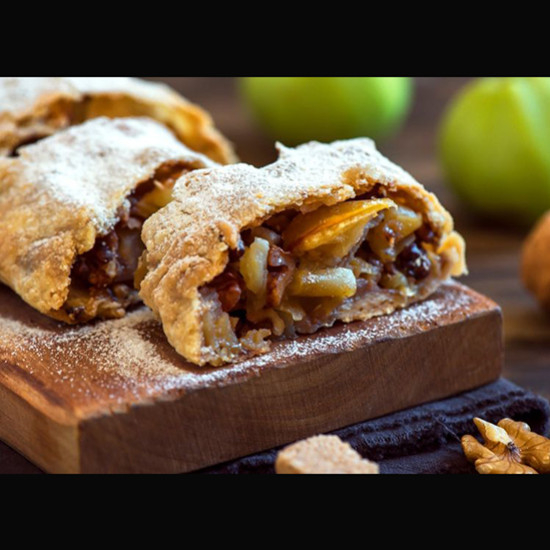 Apple and Rinquinquin Strudel
Ingredients for 6 persons
Pastry preparation :
250 g flour
1 egg
1 pinch of salt
30 g rapeseed oil
100 ml lukewarm water
In a mixing bowl, mix the flour, the salt, the egg, the oil and the lukewarm water until obtaining a nice homogeneous dough that does not stick to your fingers.
Put aside during an hour at room temperature. 
Filling :
1 kg Apples (Golden, Reinette, Chanteclerc…)
40 to 80 Sugar (Muscovado, Rapadura, coconut sugar) adapt the quantity in fonction of your choice of sugar
50 g Raisins 
1 tsp. Cinnamon
40 g Walnuts
30 g Almond powder
50 ml RinQuinQuin
70 g Butter
80 g Breadcrumbs
1 tblsp. Powdered sugar
Filling preparation : 
Put the raisins to macerate in the Rinquinquin.
Peel, deseed and cut the apples in thin slices. Place them in a mixing bowl and add the sugar, the cinnamon, the roughly chopped walnuts, the almond powder and the strained raisins.
To easily roll out the dough, place it between two sheets of baking paper. Then roll it out in a thin rectangular shape with a rolling pin.
Preheat your oven at 220°C/ 430°F.
Melt the butter on low heat.
Take the top baking paper sheet off the pastry dough. 
Gently spread the melted butter on the pastry dough, then sprinkle the breadcrumbs on top.
At about 3-4cm/1,5inches from the lower edge of the dough, place the apple filling in a long 10cm/4inches wide rectangle.
Roll the dough starting by the side with the filling, then place the apple strudel on an oven plate.
Seal the strudel edges together and brush the top with butter.
Sprinkle some sugar on top.
Put in the oven at 220°C for 10 minutes, then lower the heat to 180°C and cook for another 20 minutes until the strudel is golden. 
When taking the strudel out of the oven, brush it once more with melted butter.
Let it cool, then sprinkle with powdered sugar.
Eat the appel strudel when lukewarm with some whipped cream.
© recipe and photo : Bambule Médias
Related products
15° - 75 cl
RinQuinQuin is a white wine-based apéritif, with peaches, leaves of peach trees picked in autumn,  sugar and  alcohol.