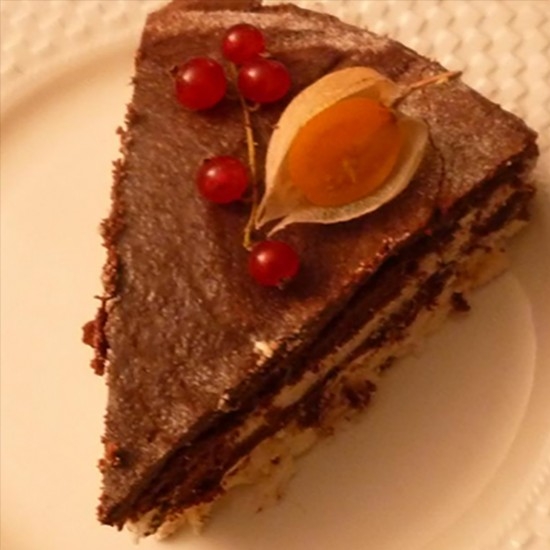 Autumn meringue in RinQuinQuin
Ingredients
Meringue:
• 4 egg whites
• 200 gr powdered sugar
• 1 vanilla bean
Chocolate sauce:
• 25 g 70% chocolate chips
• 5 cl of water
• 15 gr powdered sugar
• 2.5 cl thick cream
Foam:
• 240 g 70% chocolate chips
• 250 gr of butter
• 3 egg yolks
• 3 tablespoons of chocolate
• 6 egg whites
• 20 gr powdered sugar
• ½ jar of chestnut cream
• 50 gr of grapes
• 3 tablespoons Rinquinquin
Preparation
Prepare the meringues. Split the vanilla bean in half and scrape the seeds. Beat the whites, gradually incorporating the sugar mixed with the vanilla. Continue beating until the whites are firm, smooth and shiny.
Poach the preparation with a 10 smooth tip socket. Shape two 24 diameter spirals. Put a wooden spoon in the oven and hold the oven door open. Cook for 30 minutes at 120°C, then reduce to 100°C for 90 minutes. Turn off the oven and let it dry half-open for 2 hours.
Prepare the chocolate sauce. Melt the chocolate chips, water, sugar and cream in a heavy saucepan. Bring to a boil over low heat, then cook, stirring with a spatula. Remove from heat and set aside.
Prepare the mousse. Melt the chocolate chips in a double boiler. Mix the butter in a bowl and stir in the melted nuggets. In a bowl, combine the egg yolks with the chocolate sauce. Stir this mixture into the butter-chocolate mixture. Whisk the egg whites in soft snow and add the sugar, add 1/3 to the chocolate mixture, then add the rest.
Place the first meringue disc, add the raisins macerated with RinQuinQuin, then the chocolate mousse. Cover with the second disc and spread the cream and foam over the top and edges. Refrigerate for 2 hours.
Sprinkle with icing sugar and garnish with physalis and currants or any other fruit of your choice.
© photo : Bambule Medias
Related products

15° - 75 cl
RinQuinQuin is a white wine-based apéritif, with peaches, leaves of peach trees picked in autumn,  sugar and  alcohol.