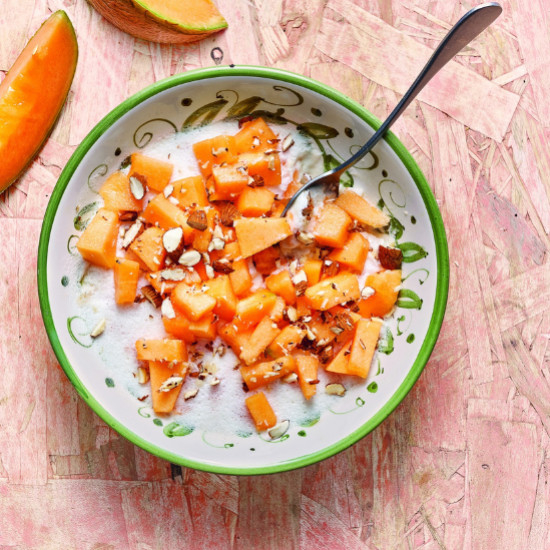 Blanc-Manger with melon by Laurent Mariotte
Serves 6
Preparation time: 30 minutes
Chilling time: 3 hours
Ingredients
4 sheets of gelatine
1 melon
5 cl of Henri Bardouin Pastis
200g of 33% almond paste
30 cl of whipping cream
30 cl almond milk
Crushed almonds
Recipe
Soften the gelatine in cold water.
Peel and seed the melon and cut it into large cubes (keep 3). Place them in a deep dish, sprinkle with pastis and leave to marinate.
Mix the almond paste with the almond milk.
Squeeze out the gelatine and melt it in a bain-marie over low heat. Pour it into the blender and blend again. Transfer the mixture to a salad bowl.
Whip the whipping cream and add it to the almond mixture. Pour this mixture over the melon cubes and place in the fridge for at least 3 hours. Cut the rest of the melon into cubes and place them on the blancmange with the crushed almonds.
A recipe to be found in Laurent Mariotte's book "Mieux Manger Sans Se Ruiner" published by Solar
With the kind permission of Solar Editions
Related products

70 cl - 45°
Pastis with a unique character: mixed from more than 65 plants and spices, it is powerful and aromatic on the palate.
Only available in France