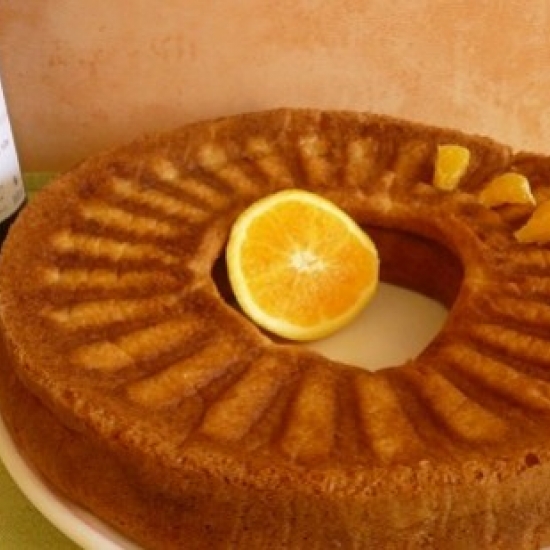 Bolo de laranja with RinQuinQuin
For 8 people
Ingredients
Planetary Mixer
Savarin mold
Pots
5 eggs
180 g flour, sifted
1 sachet of baking powder
180 g of sugar
110 g melted butter
Zest of an orange (untreated)
Juice of 2 oranges (untreated)
For the mold
30 g of butter
1 tablespoon flour
For syrup
1 orange juice (untreated)
6 cl of RinQuinQuin or RinQuinQuin Bio
2 tablespoons brown sugar
For the decor
Slices of orange
Preparation:
1. Preheat the oven to 160 ° C.
2. Clarify the eggs.
3. Whisk the egg yolks and sugar until the mixture whitens, triples in volume and becomes firm.
4. Mix yeast and flour and add to egg yolks.
5. Mix the melted butter, zest and orange juice and add them.
6. Mount the egg whites until stiff and incorporate very gently with the previous device using a spatula. Be careful not to break the whites.
7. Pour the mixture into a savarin mold, previously buttered and floured and cook for 30 to 40 minutes depending on your oven.
For syrup
1. Heat orange juice, RinQuinQuin and sugar on low heat for 1 minute after resuming boiling.
2. Once the bolo laranja is cooked, immediately unmold it on a rack and soak it with syrup.
3. Let it cool before eating.
Source of inspiration: recipe from the chef of the restaurant Loco in Lisbon (1 ⭐️ Michelin): Alexandre Silva @locorestaurant
Related products

15° - 75 cl
RinQuinQuin is a white wine-based apéritif, with peaches, leaves of peach trees picked in autumn,  sugar and  alcohol.