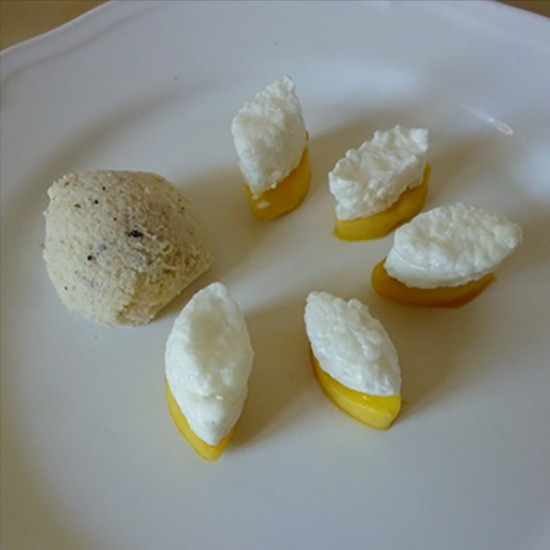 Calissons with mango, sweet almond and RinQuinQuin
For 8 people
Ingredients
Calisson of mango
4 fresh mangoes
15 cl of RinQuinQuin
Preparation
Peel the mangoes and then cut slices 1.5 cm high, detail them with a cookie cutter and macerate them in the RinQuinQuin, reserve cold
> White soufflé with almond
200 gr of whites
10 cl of almond milk
10 gr of sugar
Gently roll up the whites, add the sugar, increase the speed to maximum speed. Gradually add the almond milk. Spread on a sheet of parchment paper or a slightly greased silpat between two 1.5 cm high rulers. Bake at 90 ° C for 10 minutes. Let cool, detail in the form of calisson.
© photo : Bambule Medias
> Almond milk sorbet
50 cl of almond milk
50 cl of milk
25 cl of whipping cream
1 teaspoon of cinnamon (optional) to roast
Mix all the ingredients and stir.
Mounting
Arrange the calissons on the plate. Place on each white almond soufflé.
Add a ball of sorbet with almond milk.
Recipe inspired by Camille Lesecq, founder of the Patisserie Oppé Mutzig, former pastry chef at the Hotel Meurice, trained Crillon.
Related products

15° - 75 cl
RinQuinQuin is a white wine-based apéritif, with peaches, leaves of peach trees picked in autumn,  sugar and  alcohol.