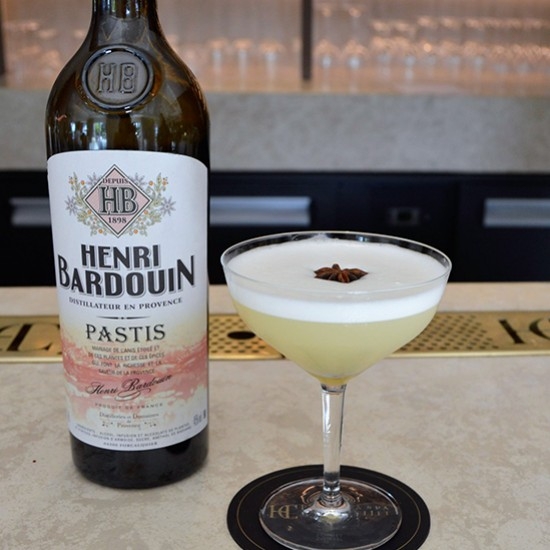 Calourasso by Antoine Maineult of Bar Hôtel & Spa du Castellet
Ingredients: 
30 ml Pastis Henri Bardouin
30 ml Yellow lemon juice 
20 ml homemade Provence herbs syrup
1 slice of fresh cucumber
1 fresh egg white
Preparation: 
In a shaker, introduce the slice of fresh cucumber. Then add the egg white. Press the lemon juice and pouring 30 ml of it in the shaker.
Add 20 ml of the homemade Provence herbs syrup. Introduce 30 ml of Henri Bardouin Pastis. After that do a dry shake, shake a first time all the ingredients of the cocktail without ice cubes. That will permit to break the egg white proteins and emulsify the cocktail. There are 25 to 30 seconds of shaking without ice.
To cool down the cocktail, shaker a second time with ice. We will then get a cocktail diluted just as it should with a pretty mousse that will come to crown it.
Finally, put the cocktail in the serving glass with a fine strainer to break the large bubbles and get a nice thick and creamy foam.
To make in a cocktail glass. 
Preparation of the homemade Provence herbs syrup: 
Use dry aromatics: rosemary - thyme - laurel.
Dip the herbs in hot water for about ten minutes. Once infused, put them on the fire with 750ml of water for 600g of sugar and bring to a boil. 
Photo credits: Sophie Bastide
Related products

70 cl - 45°
Pastis with a unique character: mixed from more than 65 plants and spices, it is powerful and aromatic on the palate.
Only available in France