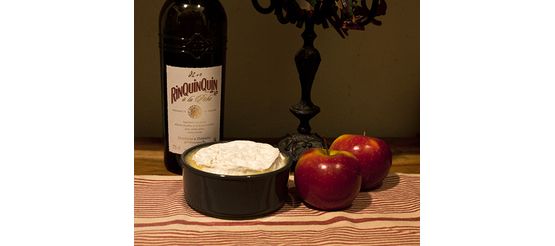 Camembert cheese apple, honey and RinQuinQuin
Ingredients
For 2 persons
• 2 well made camemberts
• 1 apple (preferably reinette)
• 2 tablespoons of honey
• 2 tablespoons of Rinquinquin
• 2 pie size moulds
Preparation
Preparation time: 40 min
Preheat your oven to 200°. Meanwhile, peel and cut the apple into thin strips. Mix the two tablespoons of honey and Rinquinquin. Cut the camemberts in half. Place the first halves in the bottom of the moulds. In the middle, place the thin strips of the apple in both camemberts. Pour the syrup obtained with the honey and the Rinquinquin over the apple slices. Cover with the second half of the camemberts. Place in the oven and cook at 200° for 15 min. Remove from the oven and serve with lettuce for example.
 © Photo : Bambule Médias
Related products

15° - 75 cl
RinQuinQuin is a white wine-based apéritif, with peaches, leaves of peach trees picked in autumn,  sugar and  alcohol.