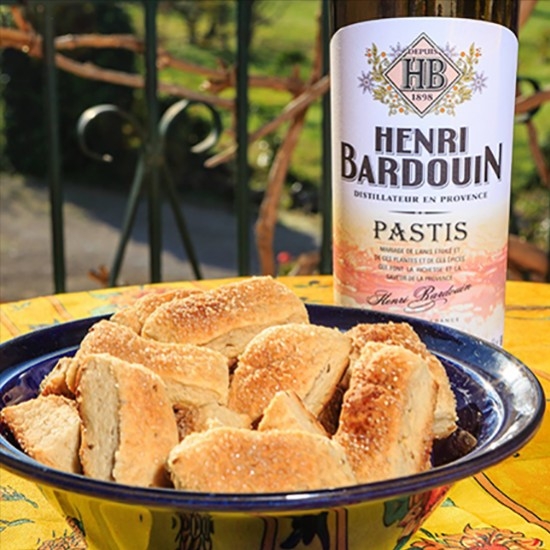 Canistrelli with green anise and pastis Bardouin by Carine - luberongite.com
Ingredients
Preparation time: 20 min
Cooking: 10 min at 180 ° + 10 min at 150 ° (or 11 min at crisp)
Ingredients:
Vegan recipe without eggs and milk
For about 25 cookies:
250 grams of white flour
80 gr of sunflower oil
80 grams of sugar (preferably brown sugar)
80 gr of white wine
1/2 sachet of yeast
1 tablespoon green anise seeds
1 teaspoon of Pastis Henri Bardouin
Preparation
Mix and knead all the ingredients to get a ball.
Separate the ball in half. Work the first half by stretching it to take the shape of a pudding.
Flatten the pudding with the palm of your hand and cut it lengthwise to obtain rectangles.
Place the rectangles on a baking sheet lined with parchment paper.
Repeat the operation with the other half of the dough.
Sprinkle Canistrelli with sugar brown sugar before baking.
Cooking Tip: Watch for them! Cooking is very important, they must not brown on the surface.
Photo credit: Damien Boschi
Related products

70 cl - 45°
Pastis with a unique character: mixed from more than 65 plants and spices, it is powerful and aromatic on the palate.
Only available in France