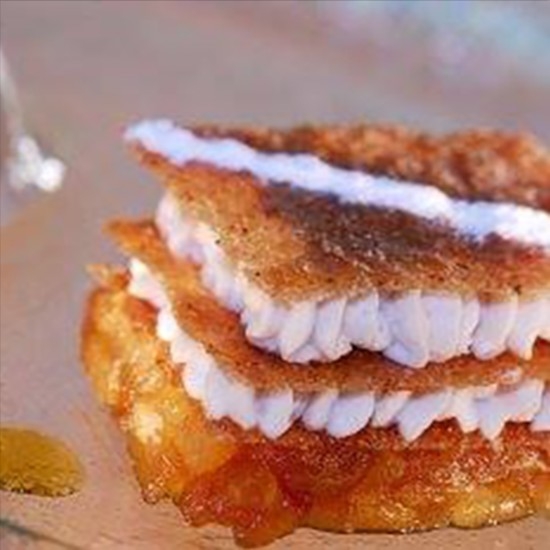 Caramelized apples in the Gentian de Lure by Alain Roussingue, Clermont-Ferrand
Ingredients
The sparkling fudge brown :
• 375g. puréed brown confit
• 2 sheets of gelatin
• 50g. florette cream
• 10g. of rum
• 450g. whipped cream
Hazelnut Crispy Crispy :
• 200g. of sugar
• 200g. of glucose
• 150g. of hazelnuts
Coulis of gentiane :
• 50 cl. of gentian liquor
• 20cl. of chestnut cream
• 10 cl. of Birlou (apple-chestnut alcohol)
Caramel apples:
• 1 kg. Golden apples
• 20cl. Lure Gentian Liquor
Préparation
Make a nougatine by cooking the sugar and glucose with caramel, add the hazelnuts, then spread on a sheet of baking paper or "Silpat", let cool, then grind into powder with a robot cutter.
Cut the apples into cubes and cook them in a skillet to caramelize them, then deglaze with the gentian, keep warm.
Reduce the gentian, chestnut cream and Birlou, to obtain a rather thick syrup.
Soak the gelatin leaves in cold water, heat the cream with the rum, melt the gelatin and mix with the chestnut puree, gently add the whipped cream, set aside in the refrigerator.
Using a stencil, place the powdered hazelnut nougatin on a baking sheet and bake in the oven at 160°C for 5 minutes. Let cool.
Dressage :
Make warm apples to your liking, then overcome with nougatine and moss in layers, serve with caramel ice and grout.
© photo : Alain Roussingue
Related products

75 cl - 16°
Gentian roots, infused directly after harvest, result in the refined bitterness, so appreciated by enthusiasts, and the tonic properties of this drink that open up the appetite.