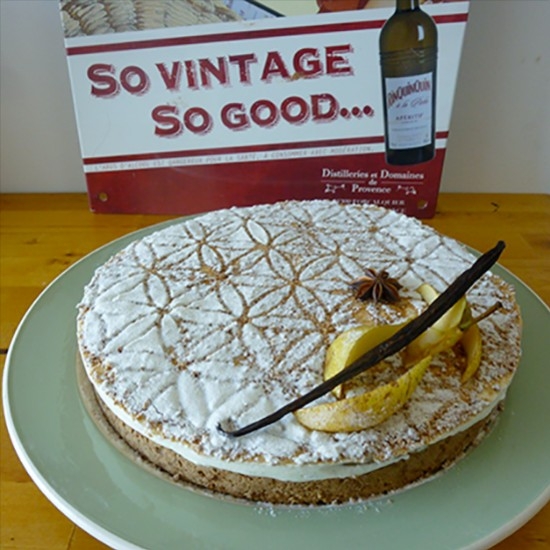 Cheesecake apples and pears in RinQuinQuin (inspired by Christophe Michalak)
Ingredients: 
For 6 people 
1/ Matériel :
• 1 salad bowl
• 1 circle of 24 cm tart
• 1 stove
• 1 stencil (or an openwork place mat)
• 1 circle with cake store (24 cms diameter)
• 1 ribbon of rhodoïd (2,5 cms in height)
• 1 spatula
• 1 railing with cake store
2/ Ingrédients for 6 people:
A/ Cremated cheesecake : 
• 100 g of mascarpone
• 100 g of cottage cheese in 0 %
• 200 g of whole single cream 35 % MG
• 1 vanilla pod
B / Spiced biscuit :
• 300 g of sifted flour
• 250 g of muscovado
• 100 g of unsalted butter
• 1 coffee spoon of bicarbonate
• Spice : cinnamon, nutmeg, anise, clove and ginger
C / Side sish :
• 3 apples
• 3 pears
• 5 cl of RinQuinQuin
• 2 soup spoons of honey of locust tree
• 2 star anises
D / Decoration :
• Icing sugar and potato flour
• Some star anises
Preparation:
Spiced biscuit to prepare the day before.
1/Préparation of the dough with spiced biscuit: 
In a salad bowl, pay the sifted flour. 
Add the bicarbonate and 4 coffee spoons of spices 
Add the muscovado
Mix and pay the melted butter in the middle by moving slowly. 
Add finally a little tepid water so that the dough is smooth and forms a ball of a little bit sticky dough. 
Add the water in moderation according to the hygrometry of your region (of some soup spoons in approximately 1/2 glass of tepid water). 
Film the dough and let her rest approximately 12 hours at cool. 
The next day, to take out the dough to spiced biscuit and let her moderate during 1 hour approximately.
Lower the dough in the roller so that she makes approximately 3 mm of thickness, and furnish a circle of 24 cms diameter, the included edges.
Cook in a cool oven in 150 ° C (thermostat 5), approximately 20 min. 
Go out, let cool on the hanging plate 5 min, book on a railing during minimum 2 hours.
2/Preparation of the side dish: 
Peel apples and pears, then cut them in small pieces. 
Make caramelize a soup spoon of honey in the frying pan. 
Add apples, star of anise drinks and leave them slightly compoter. 
To deglaze in RinQuinQuin and let reduce slightly, then free in plate with holes (type sticks in pizza) to eliminate the surplus of juice. 
Handle pears in the same way, then book.
3/Preparation of the cream: 
Put down the mascarpone, the cottage cheese, the soup spoon of honey of acacia and the single cream. 
Scratch also a vanilla pod and add grains in the tank, then rise to full power, book.
4/Montage :
Furnish the pastry base in the spiced biscuit of fruits roasted in RinQuinQuin. Furnish with cream, over fruits, then smooth the whole in the spatula by removing the surplus. 
Sprinkle the cream smoothed well by powder of spiced biscuit reserved in the beginning of recipe.
5 / Decoration :
Cut some slices of apple and pears for the decoration of the cake. 
Get back fruits as well as bottom tart cooled. 
By means of a stencil of your choice, sprinkle the surface of the cake of sugar decoration.
Décercler, to remove the rhodoïd, then to raise the cake on a display stand. 
Decorate the cheesecake with fruits cut and sprinkled with icing sugar to make them shine.
Put down a star anise.
© Photo : Bambule Media
Related products

15° - 75 cl
RinQuinQuin is a white wine-based apéritif, with peaches, leaves of peach trees picked in autumn,  sugar and  alcohol.