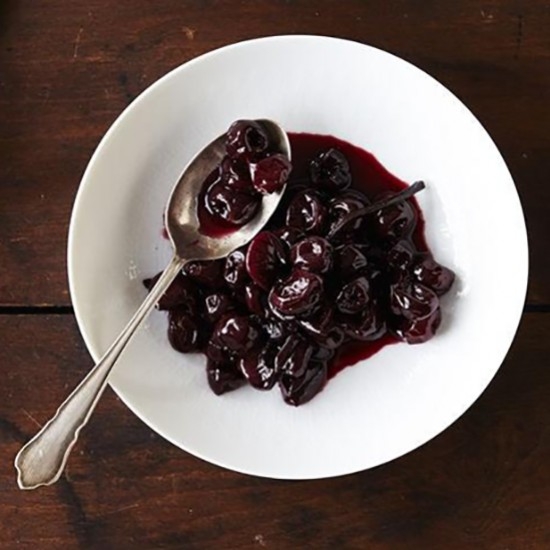 Cherries sauteed in olive oil and Farigoule
Ingredients
Serves 4

•    500 g of cherries
•    8 fresh almonds
•    50 g of light brown sugar
•    10 cl of Farigoule de Forcalquier liqueur
•    4 sprigs of thyme
•    4 sprigs of savory
•    2 tablespoons of olive oil
Preparation
A Jean-Marie Meulien recipe from the book "Savoureuses recettes de Méditerranée" by Olivier Baussan and Jean-Marie Meulien, published by éditions Flammarion.
Preparation: 10 mins. Cooking: 5 mins.
Wash and dry the cherries removing the stalks.
With a nutcracker remove the fresh almonds from their shell in one piece Remove the white skin. Set aside.
Heat one tablespoon of olive oil and the sprigs of savory in a frying pan. Next add the cherries and sauté for 2 mins, stirring with a wooden spoon. Set them aside in a deep dish.
Sprinkle the light brown sugar over the frying pan, add 1 tablespoon of water and make a syrup. Let it reduce for 2 mins then return the cherries to the frying pan and coat in the syrup.
Take off the heat and pour in the Farigoule de Forcalquier and the second tablespoon of olive oil. Mix thoroughly, scatter the thyme and almonds over the top and serve.
Farigoule is the Provençal name for thyme. Use fresh thyme, preferably when it is in flower because this is when it gives off its most subtle aroma.
For this dessert choose succulent plump cherries ("Burlat" if you can find them).
 
© photo : Food52
Related products

Farigoule of Forcalquier, thyme liqueur
50 cl - 40°

This liqueur, characteristic of Haute Provence, is produced with wild thyme, a rustic and rebellious plant, harvested at the beginning of springtime, a time when our whole region is scented by this "simple"perfume. This characteristic digestif is testament to time-old tradition and regional soils, thanks ti its delightful garrigue perfume!