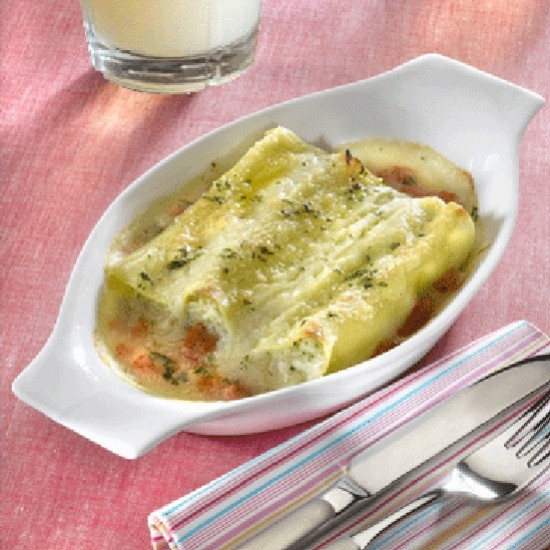 Chicken cannelloni with honey and Pastis HB
Ingredients
Serves 4

•    250 g round cannelloni
•    2 chicken breasts or thighs
•    1 large leek (white only)
•    1 onion
•    1 tomato peeled, deseeded and diced
•    2 tablespoons of crème fleurette (or single cream)
•    2 tablespoons of clarified butter
•    1 tablespoon of wine vinegar
•    1 glass of chicken stock
•    2 knobs of butter
•    Milled black pepper
•    1 zucchini
•    1 large carrot
•    1 tablespoon of honey
•    5 cl of HB Pastis
Preparation
Using a small melon baller, cut little balls from the peeled zucchini and carrot.
Cook in boiling water and set aside.
Cook the cannelloni in salted boiling water with 1 spoonful of oil for approx. 10 minutes. Drain and lay out on a clean dish towel.
Wash and finely dice the leek and onion.
Repeat with the chicken meat.
Place a knob of butter in a frying pan. On a fairly high heat, seal the diced chicken without letting it brown. Next, add the onion and leek. Cover and leave to sweat for around 10 minutes.
Finally, add the tomato. Cool before adding the cream. Stir to incorporate the cream. Season. Fill the cannelloni with this stuffing mixture and place in a gratin dish. Set aside.
In a frying pan reduce the Pastis with the honey, add the vinegar and reduce again before adding the chicken stock. Reduce again slightly. Pour this sauce over the cannelloni in the gratin dish.
Place under a hot grill for a few minutes to brown.
Coat the zucchini and carrots with the remaining knob of butter and season with salt and pepper.
Serve the cannelloni hot with the vegetables on top.  
© photo : Adobe Stock - S.E. shooting
Related products

70 cl - 45°
Pastis with a unique character: mixed from more than 65 plants and spices, it is powerful and aromatic on the palate.
Only available in France