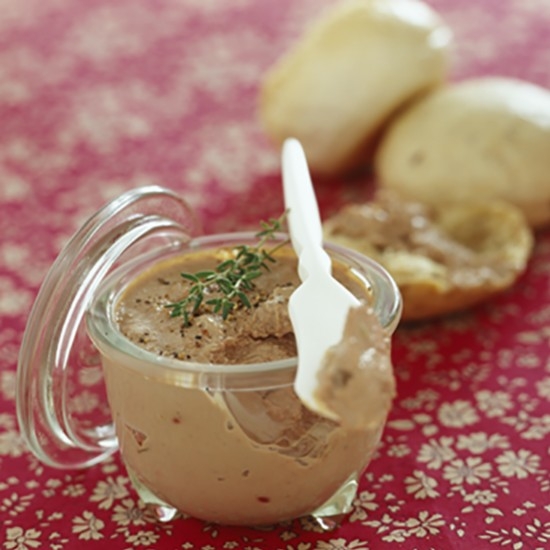 Chicken liver mousse with currants
Ingredients

•    300 g of chicken livers, nerves removed.
•    300 g of pork fat
•    Salt and pepper
•    8 whole eggs
•    250 g of single cream
•    Currants
•    ½ glass of RinQuinQuin
Preparation
David Van Laer du Maxence's Amuse Bouche
Prepare the day before.
Mix the chicken livers and pork in a food processor. Add 8 eggs, 250 g of single cream and the Rinquinquin. Pass the mixture through a fine sieve. Pour it into a terrine dish. Scatter over the currants.
Cover with a sheet of tinfoil. Cook in a double boiler at oven Gas mark 6/200ºC for 30 mins.
Keep chilled. Serve very cold on toast with a lamb's lettuce salad.
© photo : David Van Laer du Maxence.
Related products

15° - 75 cl
RinQuinQuin is a white wine-based apéritif, with peaches, leaves of peach trees picked in autumn,  sugar and  alcohol.