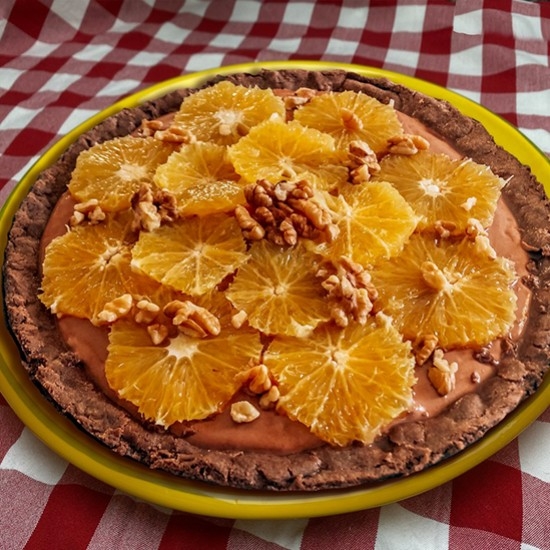 Chocolate and walnut pie with Rinquinquin
Ingredients for 6 people:
For the shortbread:
160 g salted butter,
225 g of flour
160 g powdered sugar,
4 egg yolks,
20 g of cocoa,
15 g of yeast
For the ganache:
125 g cream,
10 g honey,
100 g dark chocolate,
25 g butter
For the chocolate mousse :
60 g milk,
1 vanilla bean,
1 egg yolk,
25 g of sugar,
1 level teaspoon of cornstarch,
150 g of chocolate,
20 cl of RinQuin
280 g of whipped cream,
50 gr of walnut powder
Finishing: 2 oranges, a handful of walnuts
A/Preparation of the shortbread:
Sand the flour, powdered sugar, cocoa, yeast and butter. When the butter is well integrated with the powders and the mixture resembles sand, add the egg yolks and mix with your fingertips to form a ball. Do not over knead so that the dough remains very crumbly.
Let it rest in the refrigerator for 30 minutes before rolling it out to 5 mm high.
Butter a pie pan and place the shortbread
Bake at 170°C (Th 5-6) for 15 minutes, set aside.
B/Preparation of the ganache :
Bring the cream and honey to a boil and pour the mixture in three batches over the chocolate squares. Smooth with a Maryse and add the butter when the preparation reaches 30°C. Homogenize the ganache without incorporating air with a hand blender and set aside in the refrigerator.
C/Preparation of the chocolate mousse:
Mix the milk with the cornstarch, sugar, egg yolk and vanilla beans. Cook in a saucepan until it boils, stirring until you have a custard. Remove from heat, add chocolate and RinQuin and wait for mixture to cool before gently mixing with whipped cream.
Add the nuts, pour into a bowl and set aside in the refrigerator for at least 3 hours.
D/Assembly:
Place the sand, top generously with chocolate ganache, then the chocolate mousse.
E/Decoration:
Cut thin slices of oranges, place them on the preparation and add a few walnut kernels.
Photo credits: Alysse Miane 
Source of inspiration: Sevillian tart by Eric Sapet
Related products

15° - 75 cl
RinQuinQuin is a white wine-based apéritif, with peaches, leaves of peach trees picked in autumn,  sugar and  alcohol.