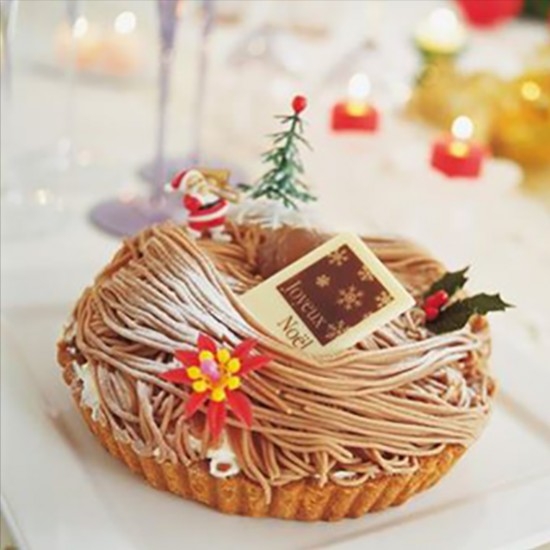 Chocolate pie with rinquinquin and chestnut
Ingredients
Shortbread dough with cornmeal:
150g of sweet butter
30 g of white almond powder
90 g icing sugar
1/2 g vanilla powder
1 whole egg (60 g)
0,5 g of salt from Guérande
225 g flour T55
45 g of cornmeal
Dark chocolate ganache 64% Manjari (Valrhona)
150 gr of chocolate
130 gr of whipping cream 35% fat
20 gr of honey
25 gr of butter
Chestnut garnish
30 gr of butter
200 gr of chestnut paste
70 gr of chestnut cream
Preparation
In the mixer bowl with the foil, knead the butter and add the ingredients in order. Mix little time. 
Shoot and reserve for 30 minutes in the refrigerator. Lower the shortbread and prick it. 
Butter the mussels, add the dough and cover with baking paper. Book an hour refrigerator.
Cook in a rotary oven at 170 ° C (tea 6) for about 15 minutes.
Keep the butter at room temperature. Melt the chocolate in the microwave or bain-marie. 
Heat the cream with the honey. Pour a third on the chocolate and mix starting from the center and expanding the movement, little by little, outward. 
Repeat the process twice and then incorporate the butter at 35 ° C.
Emulsify the ganache with the blender without incorporating air, film and reserve at room temperature for 30 minutes and pour over the pie shell.
Work the butter in the ointment, then gradually add the chestnut paste. Mix with a mixer until you obtain a homogeneous preparation. 
Finally pour the chestnut cream  then mix again. Punch with a vermicelli bush.
To savor delicately with a RinQuinQuin for a perfect match!
© photo :  Bambule Médias
Related products

15° - 75 cl
RinQuinQuin is a white wine-based apéritif, with peaches, leaves of peach trees picked in autumn,  sugar and  alcohol.