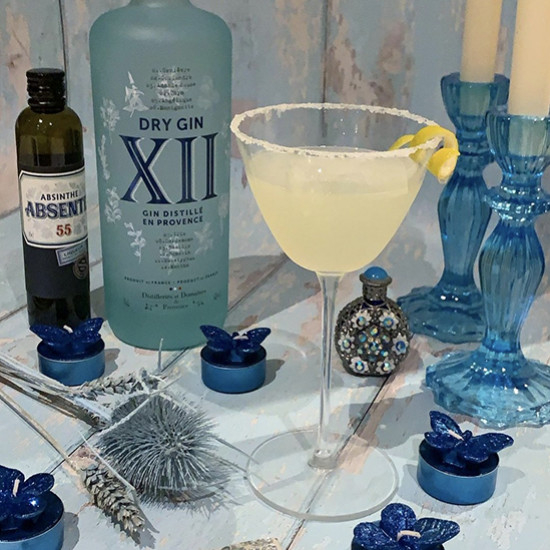 Christmas cocktail (as a Corpse Reviver) by Helen aka Londonfoodstagirl
Ingredients:
25ml Gin XII
25ml freshly squeezed lemon juice
25ml Cointreau (or other orange liquor of your choice)
25ml Vermouth
2 drops Absente 55
10ml sugar syrup
Preparation:
Shake all ingredients over ice
Strain into a sugar rimmed martini glass garnished with lemon peel
© photo : @Londonfoodstagirl
Related products

Gin XII, with 12 plants and spices
70 cl - 42°
Gin XII is craft distilled from twelve plants and spices in a plate column still, creating a subtle range of aromas. Gin XII owes its name to the twelve plants and spices that go into its creation. It is characterised by fresh, minty, floral, slightly spicy notes and a beautifully lingering finish. A dry gin with a rich, authentic taste, born of a long period of research and reflection. Gin XII takes full advantage of its Haute-Provence terroir and its subtle blend of herbs such as thyme, rosemary, basil, eucalyptus, sweet almond and mint, which join forces with small juniper berries to express the aromatic intensity of a stroll through the garrigue!

55°- 70 cl
Absinthe is  very characteristic. This is a clever blend of absinthe, artemisia, green anise and balm : delicate, sweet and slightly spiced.



75 cl - 18°
Vermouth de Forcalquier is an aromatized wine made with absinthe and vivacious, bitter plants and spices (lemon balm, mint, mugwort, green aniseed, cinnamon, coriander and pink peppercorns).
Vermouth de Forcalquier is a full-flavoured aperitif in a superb vintage style bottle.