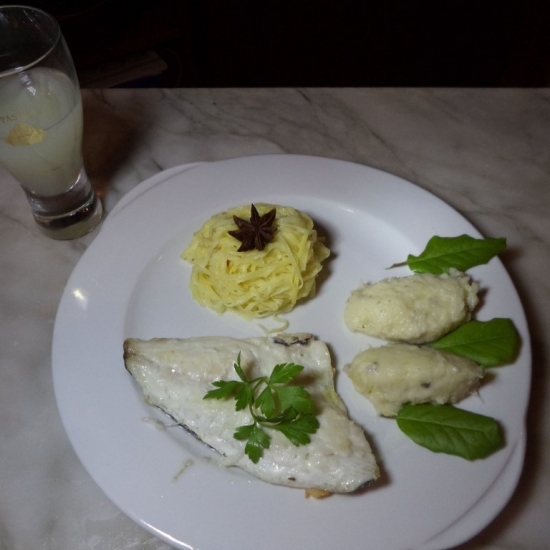 Cod Brandade Provencalized with Pastis Henri Bardouin by Gérard Falco
Ingredients
A fillet of cod
3 medium potatoes
2 cloves garlic
150 ml of olive oil and good
300 ml of semi-skimmed milk
1,2 or 3cl (according to your taste) of PASTIS HENRI BARDOUIN
Seasoning: white pepper, nutmeg, two split fennel sticks, a pinch of coarse salt and bay leaves.
Preparation
In a mortar put some grains of coarse salt and carefully stack the two cloves of garlic disguised.
Meanwhile, poach cod with skin and two bay leaves 5 to 7 minutes, and cook potatoes with two bay leaves.
Steam the cod very thin by adding a little warm oil and warm milk too. Peel your hot potatoes.
In a terra-cotta dish, on the slow-cooking wood stove, put a spoonful of olive oil and just warm it, add the potatoes to the cod and smooth well, if it is too thick add lukewarm milk, or oil according to your taste.
Once the brandade is finished, sprinkle PASTIS HENRI BARDOUIN, "quanto bene, that is to say I taste and I add until it becomes delicious, the worst is that it is fantastic".
"For quantities, the kitchen is not pastry, I mean that the proportions come according to the tastes of the moment. I taste constantly and correct.
© Photo :  Gérard Falco
Related products

70 cl - 45°
Pastis with a unique character: mixed from more than 65 plants and spices, it is powerful and aromatic on the palate.
Only available in France