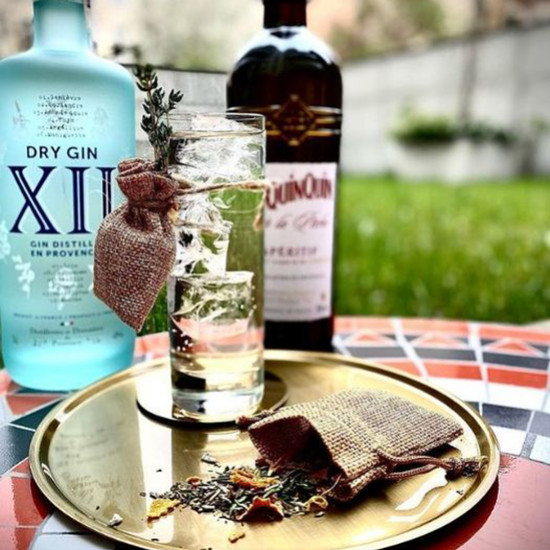 Coeur Provençal
by Mikołaj Matysiak from The Trust Bar (Cracovie)
Ingredients :
25 ml Gin XII 
25 ml RinQuinQuin 
60 ml Provençal herbs Cordial (thyme, rosemary, lavender, sage)
Method : direct in the glass
Garnish : a little pouch with mix of provençal herbs + a twig of fresh thyme fixed around the glass
© Recipe and photo : Mikołaj Matysiak @cyganeczkaa93
Related products

Gin XII, with 12 plants and spices
70 cl - 42°
Gin XII is craft distilled from twelve plants and spices in a plate column still, creating a subtle range of aromas. Gin XII owes its name to the twelve plants and spices that go into its creation. It is characterised by fresh, minty, floral, slightly spicy notes and a beautifully lingering finish. A dry gin with a rich, authentic taste, born of a long period of research and reflection. Gin XII takes full advantage of its Haute-Provence terroir and its subtle blend of herbs such as thyme, rosemary, basil, eucalyptus, sweet almond and mint, which join forces with small juniper berries to express the aromatic intensity of a stroll through the garrigue!

15° - 75 cl
RinQuinQuin is a white wine-based apéritif, with peaches, leaves of peach trees picked in autumn,  sugar and  alcohol.