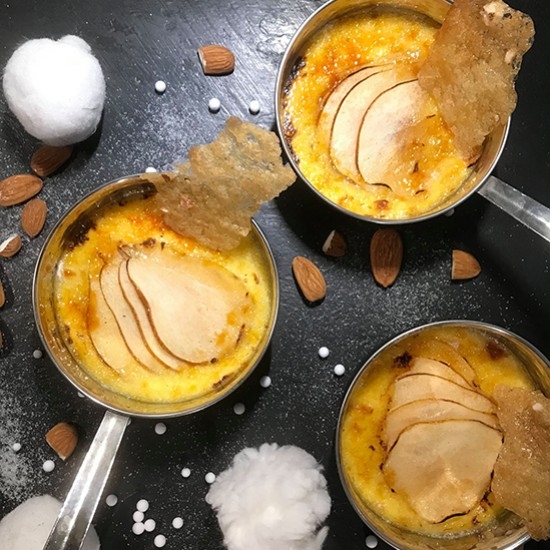 Crème brulée à la poire & safran de Barras - Chef Frédéric Payan
2 yellow Williams pears,
75 cl of fresh mountain cream,
10 cl of Farigoule de Forcalquier
6/7 saffron pistils from Barras Karkam Cheron Guilène
3 tablespoons of honey
8 egg yolks and 3 whites
210 g icing sugar
40 g caster sugar
25 g flour
2 vanilla pods
45 g butter
200 g Valensole almonds
10 tbsp brown sugar
1. Preheat your oven to 170 ° C. Melt 40 g of butter, let it cool and incorporate 210 g of icing sugar, 25 g of flour, and a 1/2 vanilla bean. Add 3 egg whites, melted butter and mix well.
2. Place small heaps of dough, the equivalent of a teaspoon, on a baking sheet with baking paper.
Sprinkle with crushed Valensole almonds. Bake for 10 minutes and wait until the tiles are golden. Book.
3. In a saucepan, put the cream and bring it to a boil. Add the seeds of the vanilla pod split in two, 6 to 7 saffron pistils and let infuse for 10 minutes over low heat. In a salad bowl, beat the egg yolks with the caster sugar to whiten them.
4. Peel and finely cut the pears with a mandolin. In a hot pan, caramelize your honey over low heat and add 5 g of butter, the pears. Let cook with a lid for 5/7 min. Pour in your alcohol and flambé it.
Divide the pears in your ramekins and pour the cream over them and bake for 50 minutes in a bain-marie.
5. Take the creams out of the oven, let them cool for 2 hours. Before serving, sprinkle with a thick layer of brown sugar and caramelize it with a blowtorch. Arrange an almond tile and enjoy!
Photo Credit: Chef Frédéric Payan
Related products

Farigoule of Forcalquier, thyme liqueur
50 cl - 40°

This liqueur, characteristic of Haute Provence, is produced with wild thyme, a rustic and rebellious plant, harvested at the beginning of springtime, a time when our whole region is scented by this "simple"perfume. This characteristic digestif is testament to time-old tradition and regional soils, thanks ti its delightful garrigue perfume!