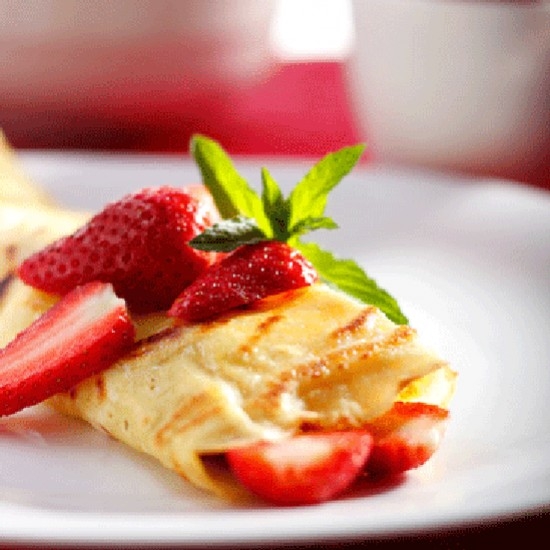 Crepes with strawberries and Pastis HB
Ingredients
Serves 4 to 6

Crepes:
•    100 g of plain flour
•    1 tablespoon of icing sugar
•    Pinch of salt
•    300 ml of milk
•    3 eggs, beaten
•    30 – 50 g of cooled melted butter
•    Clarified butter (or oil) to cook
Filling:
•    500 g of nice ripe strawberries
•    1- 2 tablespoons of Pastis HB
•    2 - 3 tablespoons of icing sugar
•    a little lemon zest and a few drops of lemon juice
Preparation
Mix the flour, icing sugar and salt in a bowl.
Add approximately 200 ml of milk and combine. Add the rest of the milk, the eggs and the butter.
If the mixture is too thick, add a little milk.
Leave to rest at room temperature for 30 mins.
Thinly slice the strawberries. Mix them with the Pastis HB, icing sugar and the lemon juice and zest. Cover and leave to marinate.
Melt a little clarified butter or oil in a frying pan. Pour on a little of the mixture and move around the pan until the base is covered in a thin layer.
Cook over a low heat until the underside of the crepe comes away from the pan. Turn the crepe and cook very briefly on the other side. Remove from pan onto a plate, cover to keep warm. Continue to make crepes until you have used all the mixture. Pile the crepes on top of one another.
Before serving, spread strawberries on each crepe and roll.
Tip: they taste even better with vanilla ice cream or whipped cream!
 
© photo : Adobe Stock - vaso
Related products

70 cl - 45°
Pastis with a unique character: mixed from more than 65 plants and spices, it is powerful and aromatic on the palate.
Only available in France