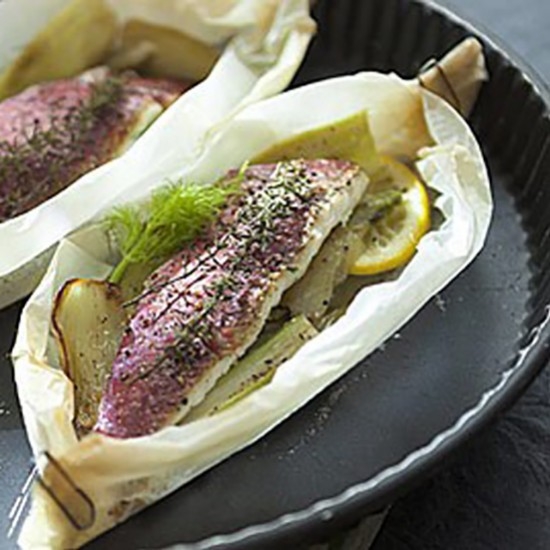 Curlpapers of red mullets, fennel and Pastis Henri Bardouin
For 4 people
Ingredients :
Preparation: 20 minutes - Marinade: 2 at 3 am - cooking: 10 in 12 minutes 
• 4 red mullets of rock about 250 g each 
• 4 small tomatoes 
• 80 g of stoned(pitted) black olives 
• The small green sheets(leaves) of a bulb of fennel 
• 2 soup spoons of olive oil 
• ½ in 1 soup spoon of pastis Henri Bardouin
• Salt and pepper of the mill
Preparation
Empty, oyster seller and raise the nets of red mullets. Rinse them in the fresh water, then mop them carefully. Put them in a hollow dish, water Them with some olive oil and with some Pastis Henri Bardouin, salt and give some tours of pepper mill. Turn them several times for the good coat them with some mixture, cover and let marinate 2 at 3 am in the refrigerator. 
Peel tomatoes having plunged them a few seconds into the boiling water. Remove seeds and chop them into any small dice. Chop olives in the knife. Mix, please, both in a bowl. Chop the small green stalks of fennel.
Preheat the oven in 200 °C (th. 6-7). Cut 4 rectangles of parchment paper about 30 x 25 cms. 
Put a red mullet filet on every rectangle, the skin downward. Cover of from tomatoes and from olives, then put a second net the other way around, skin upward, to reconstitute the fish. Strew with chopped stalks of fennel. Train hermetic curlpapers by folding up several times the edges of the paper, without squeezing fishes. Tidy up them on a plate, put in the oven and cook 10 in 12 minutes. 
Serve hot or cold.
© Photo : T. Antablian
Related products

70 cl - 45°
Pastis with a unique character: mixed from more than 65 plants and spices, it is powerful and aromatic on the palate.
Only available in France