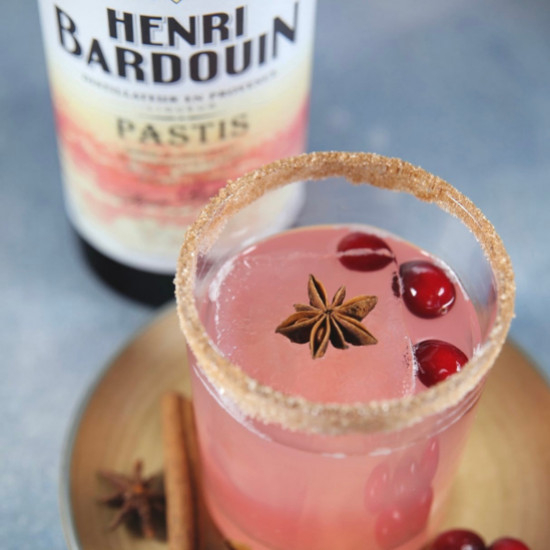 "Dans le Pastis" by Rachel Corbitt -@theresidentmixologist
Ingredients:
1½ oz London dry gin
½ oz Cointreau
¾ oz lemon juice
½ oz cranberry juice
½ oz maple-cinnamon syrup*
1 tsp Pastis Henri Bardouin
Method:
Shake all ingredients with ice to combine and chill and strain into a glass with fresh ice.
Garnish with cinnamon and sugar on the rim (use lemon juice to make it stick).
Can garnish with star anise, cinnamon stick, and/or a lemon twist.
*Cinnamon syrup:
Bring 1 cup of water to a boil, add in 1 cup of white sugar, and stir until dissolved. Add 2 cinnamon sticks and simmer for 5-10 minutes. Remove from heat, cover, and let cool for 3 hours. Remove the cinnamon sticks and store in the fridge. Lasts 2 weeks.
Credits recipe and photo : Rachel Corbitt
Related products

70 cl - 45°
Pastis with a unique character: mixed from more than 65 plants and spices, it is powerful and aromatic on the palate.
Only available in France