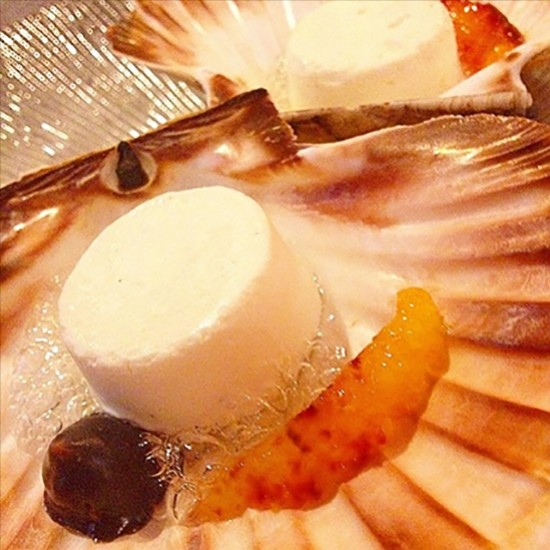 Dessert in the Sea by the Leader Jérémy Galvan
Ingredients
For 8 people
• Custard
• 125 gr of milk
• 4 egg yolks
• 50 gr of sugar
• 1 vanilla pod
• Whipped cream
• 150 gr from whipping cream to 35 % • French Meringue
• 150 gr of whipping cream 35 %
• 90 gr of egg whites
• 100 gr of sugar
• Emulsion to the white Bau Frizzant Muscat
• 25 cl of Bau Frizzant
• Lower jaw dark chocolate
• 25 gr of dark chocolate 84 % Valrhona
• 30 gr of single cream
• 1 orange
Preparation
Begin by realizing the custard, separating the yellow of the whites, clearing the yellow with the sugar in the whip and making warm the milk with the égrénée vanilla pod. When the milk shivers, to add the device (yellow + sugar). Cook in the tablecloth (83°C, film the device and let cool in the refrigerator.Prepare the whipped cream, the firm assembly, reserve for the refrigerator.Make the meringue, make rise egg whites, add the sugar when the texture is sparkling, brilliant and without grain (beak of bird).Assemble the fresh meringue in the whip with the custard, then the cream whipped in the maryse. When the mixture is homogeneous, hug and to reserve for the freezer during 6 hours.Realize the emulsion in the sparkling wine, make warm 25 cl of white Bau Frizzant Muscat, add a coffee spoon of cornstarch, then mix in the plunging mixer by incorporating of the air.Prepare the lower jaw for the dark chocolate, make warm the cream and add the pucks of chocolate, in ébulition, let cool and reserver the lower jaw in a pocket.
Training
Turn out the flabbergasted device frozen in the vanilla, give evidence in a scallopDetail an orange and realize suprèmesPoach the lower jaw in the chocolate in small puckAdd the emulsion to the white Bau Frizzant Muscat.
http://jeremygalvanrestaurant.com/chef/
© photo : @Lamalice Lyon www.lamalicelyon.com
Related products

Bau, sparkling muscate wine
75 cl - 9°
Bau is a sparkling wine developed with Muscat d'Alexandrie grape (from Luberon), a white vine growing on a hilly area.
Its delicacy and its sensual delight will be appreciated on any festive occasion,  to be served very fresh !