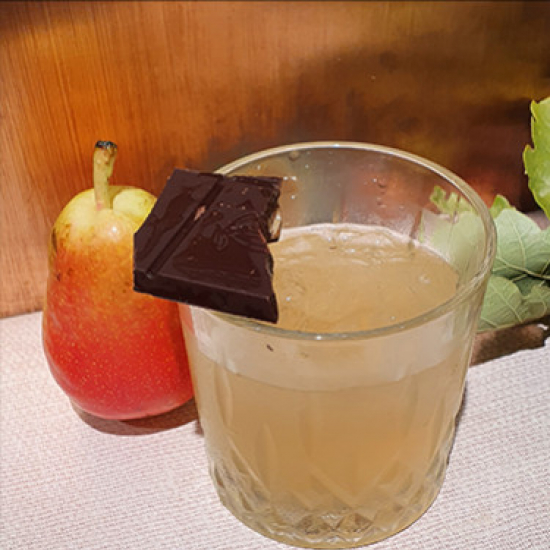 Douceur d'Automne
By Thomas, Bar Manager Le Verre à Mélange, Marseille 
Ingredients : 
20 ml lime juice
10 ml syrup
20 ml Gin XII
30 ml Douce (or Belle-paire)
4 drops of homemade chocolate Bitter
Technique : shaker
Glass : old fashioned
Method :
-Fill half your glass with ice. Cool it with a spoon and set aside.
-In the shaker, put all the ingredients in the order set above.
-Close and shake.
-Take your old-fashioned glass again. Refresh the ice if necessary.
-Pour the cocktail in the glass.
-Garnish with a square of dark chocolate. 
Home made Bitter Chocolate
- 100 ml neutral alcohol (40° flavorless alcohol, vodka or fruit alcohol)
- 3 tsp 100% cacao powder 
- 2 turns of the pepper mill
Put every thing in a watertight jar.
Give a good shake every day for 15 days
Pass through a coffee filter.
To go faster, you can heat the watertight jar in a bain-marie, with all the ingredients inside, during 15 minutes. Keep on mixing every day, til you need it.
Related products

Douce, Pear and Cognac liqueur
50 cl - 30°

Natural Poire William flavouring from the southern Alps, combined with Cognac makes Douce the most exquisite of pear liqueurs.

Gin XII, with 12 plants and spices
70 cl - 42°
Gin XII is craft distilled from twelve plants and spices in a plate column still, creating a subtle range of aromas. Gin XII owes its name to the twelve plants and spices that go into its creation. It is characterised by fresh, minty, floral, slightly spicy notes and a beautifully lingering finish. A dry gin with a rich, authentic taste, born of a long period of research and reflection. Gin XII takes full advantage of its Haute-Provence terroir and its subtle blend of herbs such as thyme, rosemary, basil, eucalyptus, sweet almond and mint, which join forces with small juniper berries to express the aromatic intensity of a stroll through the garrigue!