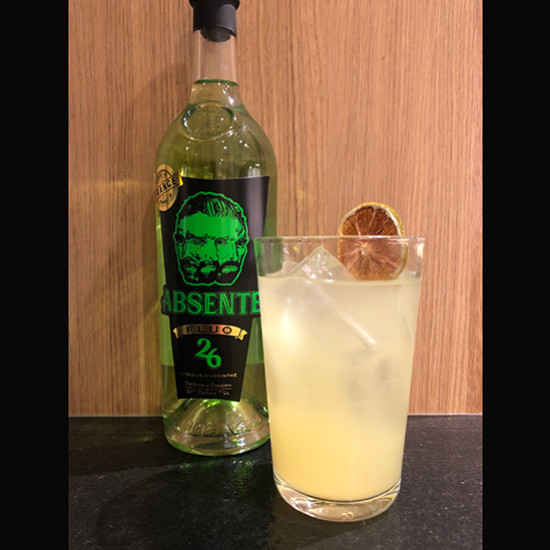 Doux Hiver
By Thomas, Bar Manager Le Verre à Mélange, Marseille 
Ingredients : 
10ml lime juice
120ml Ginger Beer
30ml Vermouth de Forcalquier
20ml Absente 26
Technique : Direct in the glass
Glass : Long drink
Method :
Fill your glass with ¾ cup of ice
Cool your glass with a mixing spoon
Then add the ingredients in the following order: lime juice, Vermouth de Forcalquier, Absente 26
Add the Ginger Beer last
If necessary, add some ice to your glass
Garnish with a slice of dehydrated lime
Related products

75 cl - 18°
Vermouth de Forcalquier is an aromatized wine made with absinthe and vivacious, bitter plants and spices (lemon balm, mint, mugwort, green aniseed, cinnamon, coriander and pink peppercorns).
Vermouth de Forcalquier is a full-flavoured aperitif in a superb vintage style bottle.

New !
70 cl - 26° alcohol
Absente 26 is a low alcohol absinthe liqueur in the absinthe family. Composed of wormwood, wormwood plants, male aurone, green anise, melissa and peppermint, it becomes
fluorescent in the dark under black light (due to the presence of riboflavin, a natural colouring agent).