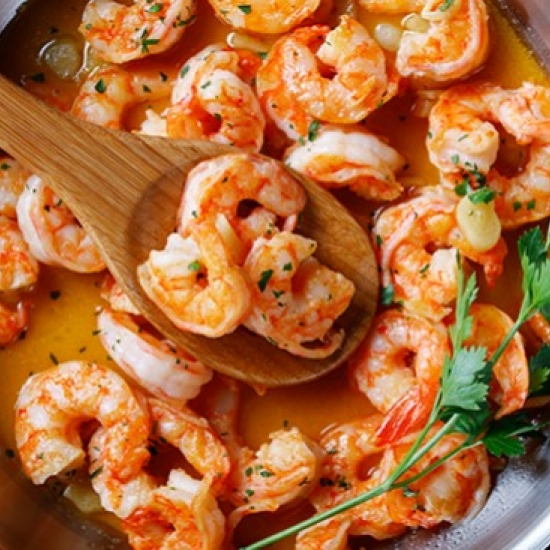 Dripping with sweat scampis aniseed
For 4 people
Ingredients
Preparation: 20 minutes 
Cooking: 8 in 12 minutes 
• 16 in 24 scampis (according to the size)
• A beautiful carrot 
• ½ white portion of the leek 
• 10 cms of stalk of celery 
• 25 cl of smell fish (fresh or prepared with the concentrated) 
• 20 grams of butter 
• 10 cl of whole single cream 
• 1 soup spoon of pastis HB 
• 1 coffee spoon of seed of anise drinks 
• Salt and pepper of the mill 
Preparation
Rinse scampis. Remove heads, then peel tails having made an incision in the supple lap part of the shell, on the length, with sharp scissors. Leave the range of the extremity. Reserve them for the refrigerator.
Make slightly burn out the seeds of dry anise in an antiadhesive frying pan. Reserve them. Boil some water. Peel and rinse vegetables. Cut them in youngs from or in fine sticks. Plunge them one minute into the salty boiling water, then drain them. 
Melt the butter in a big frying pan. Add vegetables and let them stew 2 minutes over a low heat. Pay the smell, the Pastis HB and pursue the cooking another 2 minutes. Add the cream, bring to very light shivers and rectify the seasoning. 
Plunge scampis into the hot swimming and make them poach 1 or 2 minutes. Distribute immediately in hot soup plates and strew seeds of anise drinks.
Photo credit: Adobe Stock - myviewpoint
Related products

70 cl - 45°
Pastis with a unique character: mixed from more than 65 plants and spices, it is powerful and aromatic on the palate.
Only available in France