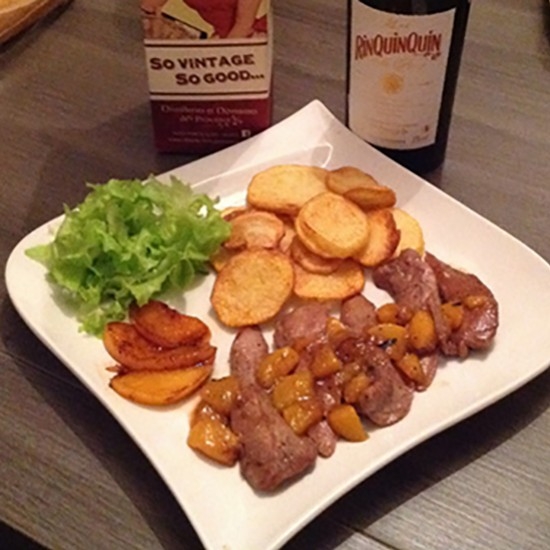 Duck Aiguillette completely RinQuinQuin by Anasthasia
For 4 people
Ingredients
Between 3 to 5 duck aiguillettes per person depending on their size
1 box of peaches in syrup for lack of fresh
From RinQuinQuin to fishing
Ground pepper
Optional: guava salt
Preparation
Cook your duck aiguillettes in a hot frying pan. According to your habits (to point, pink ...). Book
Cut your peaches into cubes and put them in the pan or you have cooked the aiguillettes. Deglaze with a glass of Rinquinquin and add a little peach syrup (if you use canned peaches).
Let the sauce reduce, then add the aiguillettes, cook for 2 minutes then enjoy with fried potatoes or fries.
To dress: to add a pinch of salt of guerande on small aiguillettes ...
Thanks to Anasthasia!
http://macookingpassion.wordpress.com/
© Photo : macookingpassion
Related products

15° - 75 cl
RinQuinQuin is a white wine-based apéritif from the Lubéron, with the peaches of the valley of Durance, with leaves of peach trees picked in autumn, with sugar of cane and with alcohol.