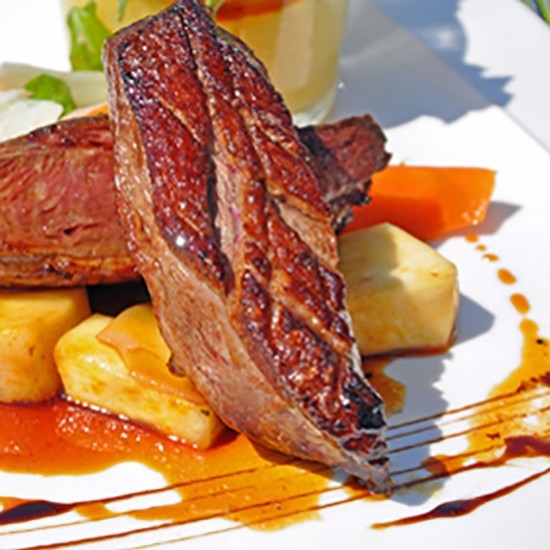 Duck breast in the honey and in the Pastis Henri Bardouin
For 4 people
Ingredients
• about 2 duck breasts 500 g each
• 4 soup spoons of honey any flowers
• 2 soup spoons of sauce soya
• 2 coffee spoons of pastis Henri Bardouin (or more for a more marked flavor)
• 20 g of butter
• Salt, pepper of the mill
Preparation
In a bowl, mix the honey with the sauce soya and the pastis Henri Bardouin.
With a cutting knife, cover(mark out in squares) the skin of steaklets of duck by drawing diamonds about 2 cms (by not cutting in the fat). Deposit them side by side in a dish and pay the marinade above. Whitewash them uniformly with a brush. Salt and pepper.
Let marinate 1 hour at room temperature.
Preheat the oven in 190 °. Butter a gratin dish.
Make warm an antiadhesive frying pan over medium heat. When it is very hot (but not ardent), to put down steaklets of duck, side skin, and let cook 2 min. Then, turn them and let gild the second face 1 min. Drain the returned fat and put them in the dish on the skin. Whitewash generously with all the marinade.
Put in the oven and let cook 6 - 8 min, according to the thickness of the meat and the wished degree of cooking. Whitewash from time to time with the juice of cooking.
Go out of the oven and cover with aluminum foil. Let rest 5 min before slicing and serving.
crédit photo : chanelle - Fotolia.com
Related products

70 cl - 45°
Pastis with a unique character: mixed from more than 65 plants and spices, it is powerful and aromatic on the palate.
Only available in France