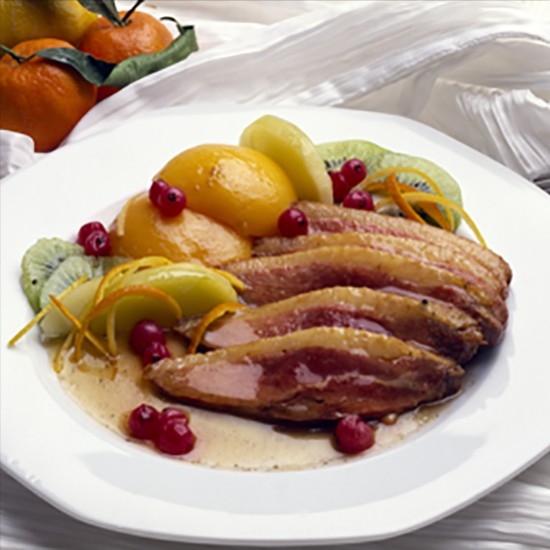 Duck with peaches
Ingredients
Serves 6
•    1 duck weighing approx. 1.5kg,
•    1 carrot, 1 onion,
•    1 bouquet garni,
•    1 small stalk of celery,
•    1 sprig of thyme,
•    1 bayleaf,
•    6 peaches,
•    2 tablespoons of sugar,
•    1 teaspoon of tomato paste,
•    1 small glass of red port,
•    1 small glass of RINQUINQUIN,
•    1 large glass of full-bodied red wine,
•    3 tablespoons of butter,
•    1 spoon of oil.
Preparation
Recipe from the SOLEIL ET PISTOU restaurant – 18 bis rue Madeleine MICHELIS –
92 NEUILLY SUR SEINE – Mr. Christian Ignace

the day before, crush the duck giblets: neck, wings, gizzards with extra giblets (ask your butcher for these).
Heat 1 tablespoon of butter and a spoonful of oil in a casserole dish and brown them on all sides. Add the carrot and onion, peeled and finely chopped, and mix. Cook for a good 5 minutes. Add the port and red wine. Reduce by half. Add ½ liter of water and bring to the boil. Add the tomato concentrate and mix. Remove any scum that forms and season with salt and pepper. Add the bouquet garni. Cook half-covered for 20 minutes. Filter through a fine sieve to collect the jus. Press down well to extract all the cooking liquid. Leave to cool and then store in the fridge until the next day. Preheat the oven to 180°C (gas mark 6). Season the duck with salt and pepper. Place it in a casserole dish with a tablespoon of butter. Cook for 40 minutes, turning and basting from time to time. Add the stock prepared the day before, having taken care to remove the surface fat. Finally add the small glass of RINQUINQUIN and adjust the seasoning.

Preparing the peaches:
Bring a pan of water to the boil and plunge in the peaches for 1 minute. Refresh immediately with cold water. Remove the skin, cut in half and remove the stone. Cook the peaches in a pan with 2 tablespoons of butter. Season with salt and pepper. Carve the duck and lay the pieces on a serving dish surrounded by the peaches. Return to the oven for a few minutes and pour over a little of the sauce (piping hot) before serving.


 © photo : Adobe Stock - FOOD-Pictures
Related products

15° - 75 cl
RinQuinQuin is a white wine-based apéritif, with peaches, leaves of peach trees picked in autumn,  sugar and  alcohol.