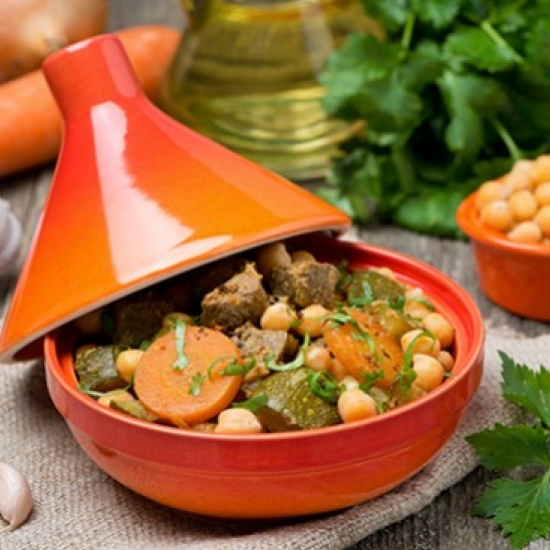 Earthenware cooking pots of vegetables in the Pastis Henri Bardouin
Pour 4 personnes
Ingredients 
Preparation: 30 minutes - cooking: the 1 hour. 
• 200 g of flesh of pumpkin · 2 zucchinis (400 g) 
• 200 g of shelled beans 
• 6 carrots 
• 4 small turnips 
• 1 big onion 
• 1 tomato 
• 2 cloves of garlic 
• 30 cl of very concentrated broth of poultry 
• 2 soup spoons of honey 
• 1 coffee spoon of seeds of anise drinks 
• 1 coffee spoon of ground cumin 
• 1 soup spoon of Pastis Henri Bardouin · 1 soup spoon of sheets of coriander and parsley chiselled 
• Salt and pepper of the mill
Preparation
Free the beans of the small skin. Peel and slice thinly cloves of garlic. Peel the tomato having plunged it 15 seconds into the boiling water, having cut it in districts and having removed seeds. Peel the onion and cut it in districts or in thick slices. Peel carrots and turnips, remove the bark of the pumpkin, rinse all these vegetables and cut them roughly sticks or in pieces. 
Preheat the oven in 180 °C ( th.6 ). Make warm the broth in a pan with the honey, the spices and the Pastis Henri Bardouin.
Arrange vegetables in a hen or a dish in earth going to the oven and provided with a lid. Slide the small strips of garlic between the pieces. Overturn boiling ardent on vegetables, cover, put in the oven and cook approximately the 1 hour, until vegetables are very tender. Verify from time to time that there is always enough liquid in the hen and, if need be, to add a little hot water so that there is a very short juice at the end of cooking. 
Be of use in the dish of cooking, or in the dish to very hot earthenware cooking pot. Strew with coriander and with parsley.
Crédit photo: Adobe Stock - cook_inspire
Related products

70 cl - 45°
Pastis with a unique character: mixed from more than 65 plants and spices, it is powerful and aromatic on the palate.
Only available in France