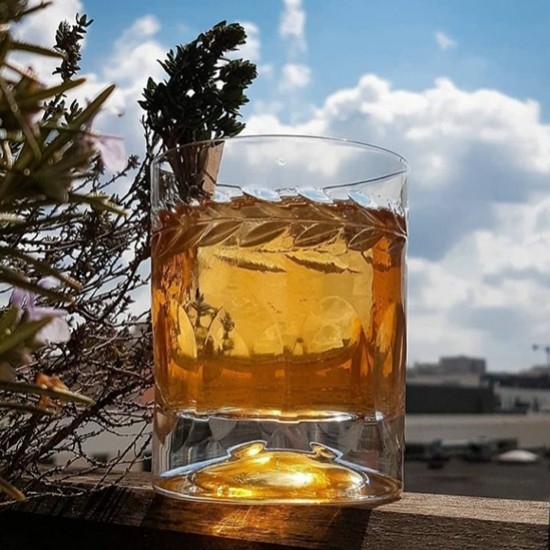 "Elixir of life" by Arnaud Tarabout in Paris
Ingredients:
45 ml of RinQuinQuin
15 ml of Farigoule de Forcalquier
30 ml of Gwenaval, Blanche de pomme (Distillerie des Menhirs)
15 ml of Double-juice (30&40)
2 sprays of Grande Absente (absinthe)
2 dashes of Peach Bitters (The Bitter Truth)
Preparation:
Spray the absinthe in the glass.
Combine remaining ingredients with ice in a mixing glass and strain over a large ice cube. 
Garnish:
Sprigs of thyme 
Photo credit: @arnaudtarabout
Related products

Farigoule of Forcalquier, thyme liqueur
50 cl - 40°

This liqueur, characteristic of Haute Provence, is produced with wild thyme, a rustic and rebellious plant, harvested at the beginning of springtime, a time when our whole region is scented by this "simple"perfume. This characteristic digestif is testament to time-old tradition and regional soils, thanks ti its delightful garrigue perfume!

Grande Absente 69, absinth
69° - 70cl
The very authentic absinthe: Grande Absente is a bitter liqueur which contains more plants of absinthe and less sugar.

15° - 75 cl
RinQuinQuin is a white wine-based apéritif, with peaches, leaves of peach trees picked in autumn,  sugar and  alcohol.