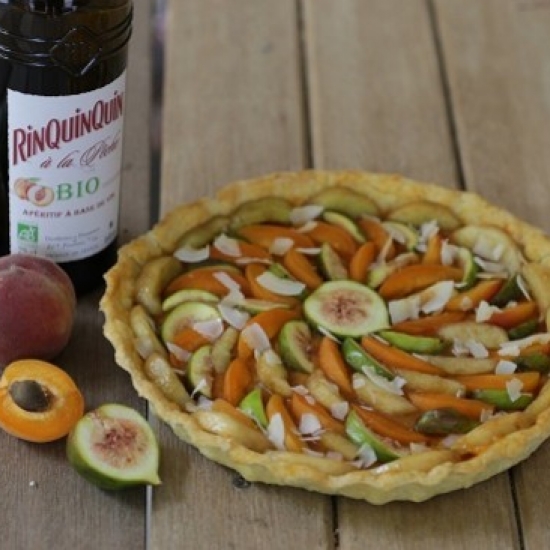 Fig tart, white peach and apricot compote with RQQ Bio
For 6 persons
Ingredients:
Preparation time: 30 minutes
Cooking time: 25 minutes
Equipment:
1 pie circle of 24 cm
1 sieve
1 dough cutter
Stretch film
1 brush
1 saucepan
Pastry:
125 gr of sweet butter
250 gr of flour
1 egg yolk
water: sparkling
Apricot compote:
500 gr of apricots
5 cl of RinQuinQuin Bio
1 case of cinnamon
1 case of agave syrup
Garnish:
4 medium figs
3 white peaches
Preparation:
1. Preparation of the pastry:
Sift flour
Place on the worktop the flour and form a well in the center, add salt and a little water to melt
Add butter in small hazelnuts
Sabler with your fingertips to obtain a sandy mixture
Redo a fountain, add the amount of water needed
Mix with the dough cutter
Gather together using two hands to get a ball
Milling by pushing with the palm of the hand the dough by fraction while pushing in front of you
Turn the dough half a turn and repeat the operation
Put the dough into a ball
Shoot and book cool for at least 30 minutes
Advice:
The butter must "coat" the flour, which gives it its particular texture.
Do not give too much body to the dough, knead to medium consistency.
Preheat your oven to 180 °.
Remove the dough from the refrigerator, flour your worktop and roll out the dough with a rolling pin.
Bake for 25 minutes at 180 °.
2. Preparation of the apricot compote
Cut the apricots into small cubes, mix all the ingredients in a saucepan, cover and cook on low heat for 30 minutes, reserve.
3. Preparation of the filling
Cut figs and white pears into slices, set aside.
4. Assembly
Place the apricot compote on the pie shell
Add slices of figs, white peaches and apricots.
Decor: add a few slices of coconut.
The recipe for the pastry is extracted from Bernard Deschamps and Jean-Claude Deschaintre's book "Le livre du pâtissier".
© Photo : Bambule Media