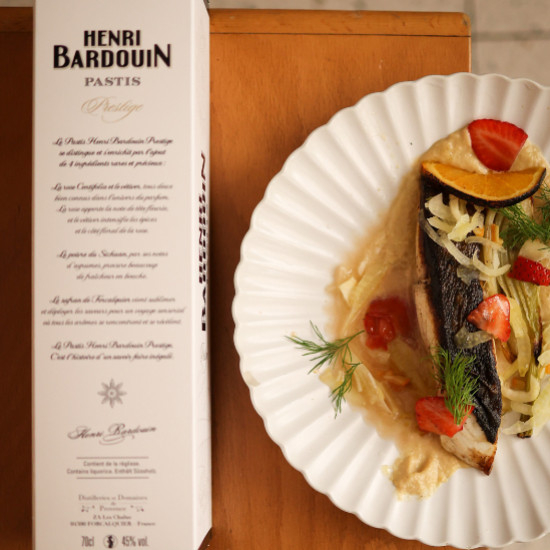 Fish flambéed with bardouin, fennel in seawater, oranges in brine, rosemary swim
Serves 4:
Ingredients:
For the oranges in brine
1kg of oranges
2 kg of coarse salt
For 1 jar of fennel
1 litre of sea water
2 fennels
4 slices of lemon
a few fennel leaves
A few bay leaves
For the flambéed fish
700 g of white Mediterranean fish (amberjack, bass, sea bream... depending on the season)
Pastis Henri Bardouin Grand Cru
20 cl olive oil
20 g butter
Coarse salt
Fine salt
Timmut pepper
Anise seeds
3 lemons, yellow
3 limes
Rosemary soup
50 cl dry white wine
1kg strawberries
10 sprigs of rosemary
Salt
Pepper
Recipe :
Oranges in brine
To be prepared 1 month before. Cut the oranges into quarters, place them in a dish on a layer of coarse salt, then cover them with coarse salt.
Repeat as many times as necessary.
Cover the dish with plastic wrap and leave in the refrigerator for 1 month.
After one month, separate the pulp from the peel, and cut the peel into very fine slices to season the dish. The pulp can be used for other recipes.
Fennel in sea water
To be prepared a week before. Make an edible seawater brine: collect the seawater in a bottle and place it in the freezer for 12 hours. Thaw the seawater by filtering it through a paper coffee filter to remove all impurities. Then boil it for 10 minutes to sterilise it.
Cut the fennel into 1 cm thick strips and place them in a jar with the lemon slices. Cover with a layer of bay leaves to keep the fennel immersed in the brine.
Pour in the cooled seawater brine, making sure it reaches the top of the jar, and close with a tight-fitting lid.
Leave to ferment at room temperature for 1 week.
Fish flambéed with Pastis Henri Bardouin Grand Cru
Scale and gut the fish and remove the fillets, taking care to remove the bones.
Sprinkle the flesh with coarse salt and leave to rest for 10 minutes. Rinse under cold running water.
Prepare the marinade by mixing the olive oil, the juice and zest of 3 lemons and 3 limes and the aniseed. Season with salt and pepper.
Cut the fillets into portions of about 130 g and marinate them for 1 hour.
Heat the butter and a dash of olive oil in a frying pan over a high heat. Cook the fish on one side, skin side down. Remove the fish from the pan and place it on its flesh.
Heat the oven to 220°C with 80% humidity if possible.
Sprinkle with Pastis Henri Bardouin Grand Cru, flambé and finish cooking for 1 minute.
The rosemary swim
Infuse 3 sprigs of rosemary in 1 litre of water with about ten strawberry stems and 5cl of white wine.
Leave to reduce.
Finishing and presentation
Place the fermented fennel on a plate, followed by the fish on horseback, sprinkle with a little of the nage. Place the brunoise of pickled oranges, citrus zest and fresh herbs such as dill or fennel leaves. Add the marinated strawberries. Add a squeeze of lemon.
© Recipe : Charles Pinoteau, Restaurant Opéra Zoizo, Marseille
© Photo : @bureau_apo
Related products

70 cl - 45°
Pastis with a unique character: mixed from more than 65 plants and spices, it is powerful and aromatic on the palate.
Only available in France