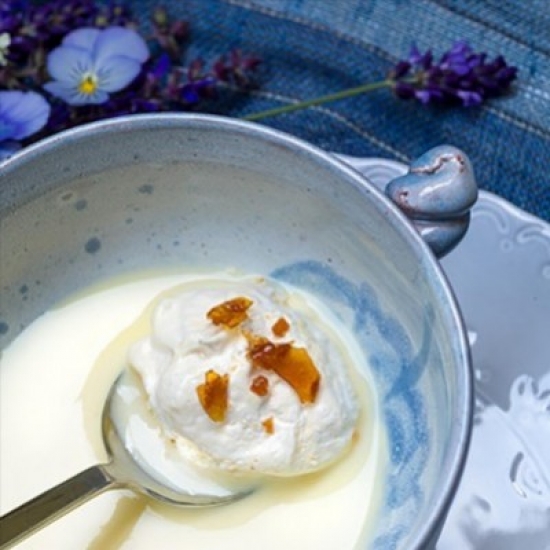 Floating Island RinQuinQuin freely inspired by the recipe of Christophe Michalak
For 6 persons
Ingredients
English cream
Whole liquid cream: 100 ml
Whole milk: 400 ml
Bourbon bourbon vanilla pod: 1
Egg yolk: 3 (60 g total)
Semolina sugar: 80 gr
Maizena: 3 g
2 tablespoons of RinQuinQuin
Meringues:
Egg whites: 5 total (150 g)
Semolina sugar: 90 g
Preparation
English cream
Infuse the vanilla split water less 20 minutes in the mixture milk + cold cream.
Bring the milk and cream to simmer over medium heat and during this time whisk the egg yolks with the caster sugar.
When the milk comes to a simmer, pour it on the yellow-sugar mixture twice. Whisk well to make the mixture homogeneous.
Pour the mixture into the saucepan with the pod and bring to 85 ° C over medium heat, mixing with a spatula. Stop cooking when the cream "tablecloth" or use a confectioner's thermometer.
Pour into a bowl, add the RinQuinQuin and film.
Reserve three hours in the refrigerator.
The meringue
With the 3 yolks used for custard, you should get about 90 g of whites. (1 white = 30g). Add two eggs, you need 150 g of whites in total. Separate the whites from the yellows to get the rest.
Preheat your oven to 160 ° C rotating heat.
In the bowl of your batter, beat the whites by increasing the speed and adding the sugar gradually.
Beat the whites and semolina together until you have a firm texture (bird's beak).
Poach small balls to the socket of 15 on a silpat
Bake for 10 minutes at 130 degrees in a ventilated oven
Dressage:
Pour the custard into cups or verrines.
Put the meringue in each verrine.
Break pieces of caramel pieces and arrange one on each dish.
Enjoy without further delay.
© Photo : Bambule Media
Related products

15° - 75 cl
RinQuinQuin is a white wine-based apéritif, with peaches, leaves of peach trees picked in autumn,  sugar and  alcohol.