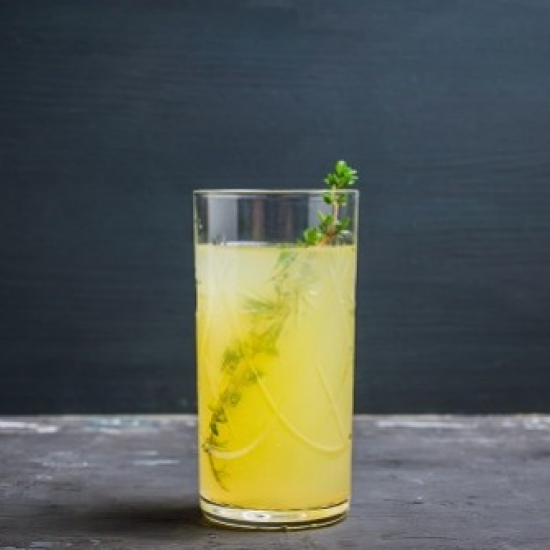 Forcal Tonic by L'Estafête
Ingredients:
45 ml of Vermouth de Forcalquier
15 ml of Orange colombo
15 ml of Farigoule
20 to 30 ml of Bau
Preparation:
Fill a large glass (tall wine glass or highball) with icicles and leave it aside
In a mixing glass put all the ingredients.
Fill with two-thirds of ice cubes and mix with a spoon.
Remove the water from the glass using a strainer and pour the contents of the mixing glass into the cocktail glass using a (julep) strainer.
Finish filling the cocktail with 2 or 3 cl of white bau and garnish with a branch of thyme that can be flamed with a lighter to bring an additional smell.
Related products

75 cl - 15°

With its sweet and bitter taste, flavour and candied oranges and honey, Orange Colombo lingers on the palate and provides the ideal base for several cocktails.
Farigoule of Forcalquier, thyme liqueur
50 cl - 40°

This liqueur, characteristic of Haute Provence, is produced with wild thyme, a rustic and rebellious plant, harvested at the beginning of springtime, a time when our whole region is scented by this "simple"perfume. This characteristic digestif is testament to time-old tradition and regional soils, thanks ti its delightful garrigue perfume!

Bau, sparkling muscate wine
75 cl - 9°
Bau is a sparkling wine developed with Muscat d'Alexandrie grape (from Luberon), a white vine growing on a hilly area.
Its delicacy and its sensual delight will be appreciated on any festive occasion,  to be served very fresh !