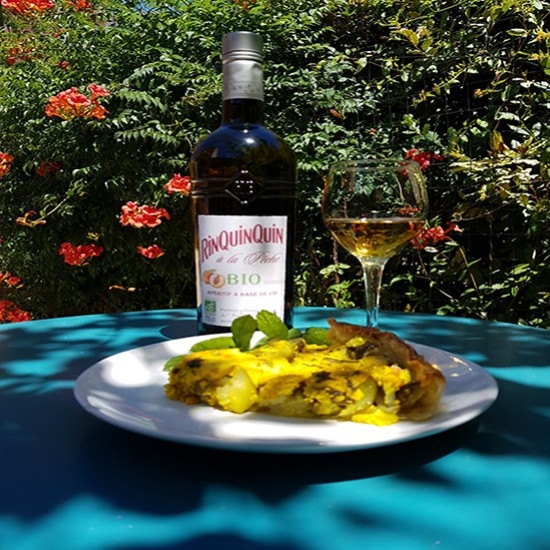 Fresh Goat Cheese, Zucchini and RQQ Tart
Preparation time: 45 minutes
Cooking time: 30 minutes
Materials
1 pie plate or 24 cm pie circle
1 pastry brush
1 salad bowl
Serves 6
Ingredients:
Shortcrust pastry
125 gr of soft butter
250 gr of flour
1 egg yolk
water: sq
2 fresh goat cheeses, Petit Billy type (2 x 200 gr)
1 case of turmeric
1 case of coriander
1 handful of mint leaves
10 cl of RinQuinQuin
1 kg of zucchini
1 onion
1 case of thyme
4 cases of coriander honey
2 cases of olive oil
Procedure:
1.Preparation of the shortcrust pastry:
Sift the flour.
Place the flour on your work surface and form a well in the center, add the salt and a little water to melt it.
Add butter in small pieces.
Sand with your fingertips to obtain a sandy mixture.
Make a new fountain, add the necessary amount of water.
Mix with pastry cutter.
Gather with both hands to obtain a ball.
Push the dough with the palm of your hand in front of you in fractions.
Turn the dough half a turn and repeat the operation.
Form the dough into a ball.
Cover with plastic wrap and chill for at least 30 minutes.
Tip:
The butter should "coat" the flour, which is what gives it its special texture.
Do not give too much body to the dough, knead to a medium consistency.
Preheat your oven to 180°C.
Take the dough out of the refrigerator, flour your work surface and roll out the dough with a rolling pin.
Pre-bake the dough for 10 minutes at 170°.
2. Preparation of the fillings
Peel and chop an onion.
Wash and dice the zucchini.
Fry the onion in a large frying pan, add the zucchinis for about ten minutes on a medium heat, set aside.
Crush the fresh goat cheese in a bowl, add the turmeric and coriander, the chopped mint and the RinQuinQuin, set aside.
Place the cooled zucchini on the pre-cooked pie crust, brush with the fresh goat cheese mixture and bake for 15 minutes at 170°C.
Remove the pie from the oven, add the honey and olive oil and bake for 5 to 10 minutes at 200°C.
3. Tasting
Balance of crispy and creamy textures
Sweet and salty tart, with tangy notes,
To be enjoyed warm in summer with a chilled RinQuinQuin
To be accompanied by a rocket from Provence.


Photo : Bambule Medias 
Related products

15° - 75 cl
RinQuinQuin is a white wine-based apéritif, with peaches, leaves of peach trees picked in autumn,  sugar and  alcohol.