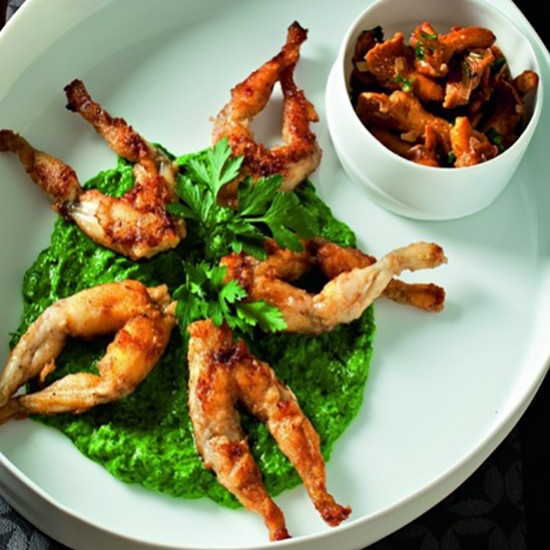 Frog legs with Grande Absente (69 °)
For 6 persons
Ingredients
Preparation: 20 minutes
Cooking time: 20 minutes
Rest: 1 hour
12 frog legs
3 dl of milk
1 dl of cream
2 tablespoons flour
2 shallots
125 gr of butter
½ dl of Grande Absente
Parsley
Chive
2 cloves garlic
Lemon
Salt pepper
Preparation
Soak the legs in a bowl with milk and cream for at least 1 hour.
Sponge thighs and flour slightly.
Finely chop the shallots and fry them in a frying pan with 100 gr of butter over very low heat (the shallots should not take any color).
Then pour the cooking butter, without the shallots, into another frying pan and sauté the legs over high heat. When they are well browned on all sides, water them with the Grande Abesente and flambé.
Keep the frog legs warm on a platter and sprinkle with parsley and chopped chives. Salt and pepper.
Add the pressed garlic and the remaining butter in the frying pan. Heat gently and drizzle with lemon juice.
Lather, then pour on the frog legs.
© Photo : Hervé Amiard
Related products

Grande Absente 69, absinth
69° - 70cl
The very authentic absinthe: Grande Absente is a bitter liqueur which contains more plants of absinthe and less sugar.