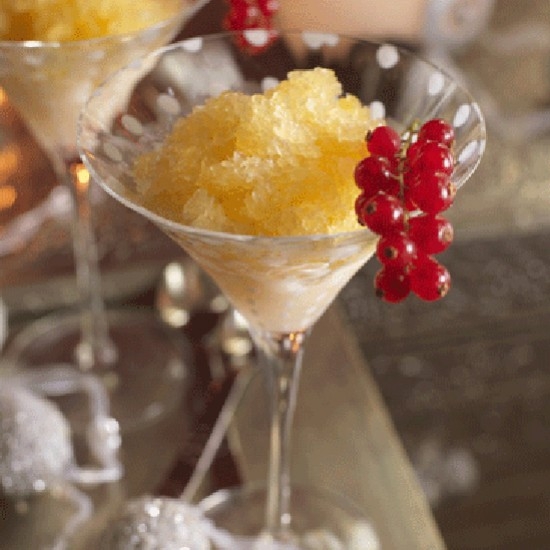 Fruit Salad, HB Pastis Slush
Ingredients
For 4 people

•    2 melons
•    2 pink grapefruit
•    3 cl of HB pastis
•    100 g of sugar
•    Star anise
Preparation

Preparation: 25 mins.
6 hrs. resting time
Cooking Time: 2-3 mins.

At least 6 hrs. in advance:
Put sugar and 5 dl of water into a casserole. Turn on low heat until the sugars is melted. Add the HB pastis. Pour into the can, close, allow to cool, place in the freezer for 6 hrs.

15 mins. before serving:
Peel grapefruits with a sharp knife, remove the quarters without the skin. Cut the melons into two, remove the seeds, remove the pulp, cut them into sticks. Mix grapefruits and melon in 4 cups.

5 mins. before serving:
Remove the frozen syrup from the freezer, scratch it with a fork to make flakes. Spread on the fruit. Decorate with the star anise.

Tip:
To peel grapefruit with a sharp knife: cut a cap on the top and bottom, going up to the flesh, then place the fruit standing up on a plate, cut large bands of rind while slightly cutting into the pulp: there must not be any white skin left. To remove the quarters without the skin: slide a sharpened knife against the membrane that separates the two quarters, up to the heart of the fruit; come back supporting the blade against the next membrane, which removes the quarter...
 
© photo : Adobe Stock - FOOD-Micro
Related products

70 cl - 45°
Pastis with a unique character: mixed from more than 65 plants and spices, it is powerful and aromatic on the palate.
Only available in France