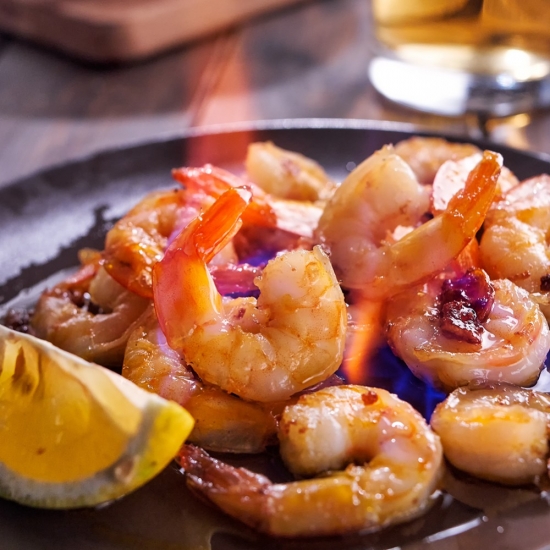 Gambas with the absinthe Grande Absente
Ingredients
Serves 6
•    8 shrimp or large prawns per person
•    50 cl of crème fraîche
•    A small quantity of saffron
•    1 clove of garlic
•    1/2 bunch of tarragon
•    Absinthe GRANDE ABSENTE
Preparation
Shell the shrimp.
Marinate the gambas (1/2 hour) in 2 to 3 tablespoons of absinthe and the tarragon.
In a large frying pan, sauté the shrimp with the garlic on a high heat. When hot, lower the temperature, add the marinade, wait a few seconds then flambé (you may have to add a little more absinthe!).
Stir in the crème fraîche, add the rest of the tarragon, stir, then the saffron. Season with salt and pepper.
If the taste of the absinthe is too strong, add more crème fraîche.
Cook briefly over a low heat.
Serve with white rice.
© photo : Adobe Stock - Yummy pic
Related products

Grande Absente 69, absinth
69° - 70cl
The very authentic absinthe: Grande Absente is a bitter liqueur which contains more plants of absinthe and less sugar.