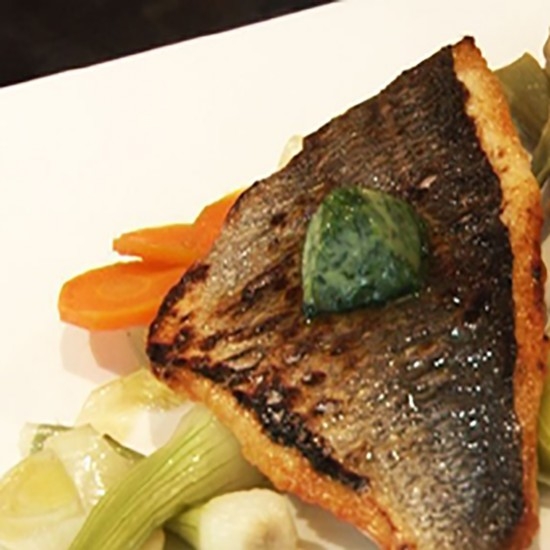 Gilthead sea bream in the oven and in the Pastis Henri Bardouin by Joel Juglaret
For 4 people 
Ingredients 
Preparation: 30 min 
Cooking: 36-38 min
• 2 sea breams of 800g (1 net by pers.) or 4 sea breams of 400 g (2 nets by pers.) 
• 200 g of basmati rice 
• 300 g of spinach in branches 
• 6 cl of Pastis Henri Bardouin 
• 2 bay leaves 
• 2 shallots 
• 1 carrot 
• 1 branch of parsley 
• 80 g of butter 
• 6 cl of crème fraiche 
• Salt, pepper 
• blank Olive oil
Preparation
Raise the nets of sea breams. Make a smell of fish with fish bones cleaned in the clear water.
Get back in the oil the first shallot, the carrot in youngs from, a branch of parsley, the laurel and the fish bones of fishes in a pan. Cover. Once fish bones in purée, cast anchor with 1.5 l of water. Let boil 30 min in small boiling. Cross the smell in the Chinese and reserve the broth.
Cook the basmati rice. Preheat the oven in 180°C. Put on a plate of the oven oiled and salted in the sea salt nets flesh-coloured side. Cook 6 - 8 min according to their thickness.
Clean spinach, get back them in the olive oil in the frying pan. Reserve.
In a pan, put the second shallot chiselled with a little oil. Cook without letting color. Singe with the Pastis Henri Bardouin then cast anchor with the smell of fish. Reduce then cremate. Reduce again. Incorporate the cold butter into the hot sauce and mix.
Raise spinach in the center of the plate. Put the net above. Add a good cordon of sauce any goshawk.
Photo credit : Les terrasses de la Bastide
Related products

70 cl - 45°
Pastis with a unique character: mixed from more than 65 plants and spices, it is powerful and aromatic on the palate.
Only available in France