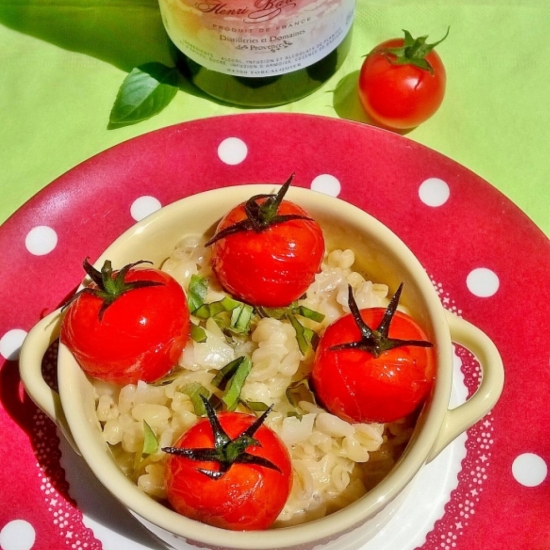 Goat wheat risotto, pastis and cherry tomatoes roasted Balsamic By Magali
For 4 people
Ingredients
200 g of wheat
5 cl of PASTIS HENRI BARDOUIN
10 cl of dry white wine
1 tomme of fresh farmer's goat cheese
16 cherry tomatoes washed with the peduncle
10 cl of semi-liquid cream
1 onion, trimmed and chopped
1 garlic clove trimmed and crushed
6 chopped basil leaves
4 tablespoons olive oil
2 cubes of chicken broth
1 tablespoon balsamic vinegar
Salt pepper
© Photo : Magali du blog douceur et gourmandise
Preparation
In a saucepan containing 600 cc of boiling water, melt the bouillon cubes.
Reserve on low heat.
In a wok, pour 2 tablespoons of olive oil and melt the garlic and onion.
Stir in the wheat and coat well in the oil.
Sprinkle with white wine and PASTIS HENRI BARDOUIN.
Mix.
After 5 minutes, add two ladles of broth.
Repeat the operation when the wheat is out of liquid.
Cook for 15 minutes.
Stir in goat cheese, salt, pepper, 3 chopped basil leaves and cream.
Stir.
Melt for 2 minutes on high heat and extinguish.
In a skillet, pour the olive oil and cook for 6 minutes the cherry tomatoes, stirring occasionally.
Deglaze with balsamic vinegar.
Switch off.
Place the risotto in a deep plate or a small ceramic casserole, with cherry tomatoes on top and chopped basil.
Thanks to Magali!
From the blog douceur et gourmandise
https://douceuretgourmandise.wordpress.com/
Related products

70 cl - 45°
Pastis with a unique character: mixed from more than 65 plants and spices, it is powerful and aromatic on the palate.
Only available in France